Lie, Cheat & StealThe Game of Political PowerReiss Games - 1971
2 - 6 Players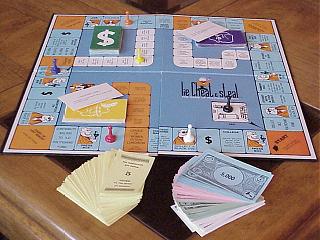 Lie, Cheat & Steal is a political simulation in which the players are trying to be elected to public office. Unlike most political simulations, which are based on how elections are supposed to be run, Lie, Cheat & Steal uses the true political methods of vote buying, libel and under the table deals to advance to office.
Players start with $50,000 and collect another $20,000 every time they pass Start. Each turn, they may use their cash to buy votes (up to 20 a turn at $1,000 a vote). They may also get votes by accusing other players of fraud or other crimes (true or not). They may lose votes by being accused in turn or by falsely accusing another player who manages to defend themselves. Players may also promise favors to various groups in exchange for votes (Intellectuals - 5 votes, the Underworld - 10 votes, Big Business - 20 votes, Organized Labor - 100 votes).
To raise additional cash players can drop out of politics for a while and enter private business. Or, they can enter local politics in order to build up their reputations. Finally, they can find themselves subpoenaed to appear on the federal witness stand as a result of a Senate investigation.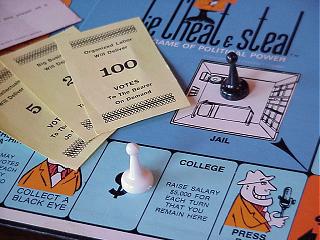 Let's face it; we all think politics really works this way, don't we? Buying votes, soliciting favor from various factions, calling Senate investigations on your opponents whenever they get too far ahead of you... Sound familiar? This is the perfect game for the political cynic.
---
22 comments on Lie, Cheat & Steal:
Dan
at June 2, 2012 04:38 said:
Hi,
LIE, CHEAT & STEAL is a good game to play with friends and family. Can I buy this game online.
Thanks

words with friends cheat board online
Tobyk
at August 6, 2011 13:12 said:
I have the 1971 version of this game. If you'd like to make an offer please send to cuddlesnike@att.net
TobyK
at August 6, 2011 13:06 said:
I have the 1971 version of this game. Anyone care to make an offer?
Alicia
at April 5, 2011 23:02 said:
Got this game as a wedding present in 1980 - was loads of fun & it will teach you about your friends. This game helped reveal what a pathalogical liar my ex was as I learned how he lied so I could tell on other things if he told the truth or lied.
Mhesh Senator
at March 11, 2011 08:30 said:
Thanks 4 the game . I was looking for the real thing inside out. Where is it.
nam ladsaria,kathmandu(nepal)
at January 2, 2011 08:41 said:
this is the best board game i have ever played
snowy
at December 24, 2010 02:07 said:
We used to love playing this back in the 70's. I still have our bookcase copy in excellent condition. It was only missing the rules (rules???...who needs rules?). I recently found another copy on eBay.....flat, not the bookcase version. I got it because it had the rules. You can occasionally find a copy there. I would figure on shipping a weight of maybe 1 pound. Shouldn't be too expensive to Australia by surface mail.
Kilroy
at August 13, 2010 14:02 said:
Why has no one come up with a PC version of this game?
Boomba
at April 20, 2010 01:24 said:
Hi Susan. I'd be interested in buying your game. What condition is it in? What would postage cost to Australia? Cheers
Susan
at April 18, 2010 10:06 said:
I found our old game. Looks like all the parts are still there. Anyone want to buy it!
m
at December 5, 2009 23:26 said:
Oh man! My family had this game when I was a kid and we played it all the time. It was really fun. I think I'm going to try to hunt down a copy for my family.
phil - oregon
at September 7, 2009 00:45 said:
HA! I too played countless games with college buds in Boston in early 70's.
We made one change to the rules:
You can't buy the last 50 votes...you have to get them some other, more honorable way, ex. accusation, extortion, etc... anything but buy them.
Chip- North Texas
at February 8, 2009 20:33 said:
Me and my buddies must have played this game 500 times plus during our college years in the 70's. It is one of the most fun, educational, and hilarious games ever! If you can get a copy, GET IT !
Dave
at October 15, 2008 16:32 said:
Noble Knight games has an online shop and has a few in stock for a coupla bucks
Luvs2Phuck
at August 14, 2008 12:13 said:
this game pwns
Liar
at April 17, 2008 16:13 said:
This game never grows old. I played one found at Goodwill and liked it so much I bought one off ebay for $7. One of the best investments I've ever made.
Lori B
at February 13, 2008 02:48 said:
Amazon has copies from time to time!
Xriss Jor
at February 12, 2008 11:00 said:
I haven't laughed so much while playing a board game than at this one!! OMG!!!
Dennis, The Gamepiler
at January 7, 2008 10:06 said:
Check the FAQs and Links links in the left sidebar for a list of places where you can find older games on-line.
Althea
at January 3, 2008 20:03 said:
Try ebay-there are some there now!
Sharon
at January 3, 2008 06:41 said:
How can I find this game in a store?
RSTJensen@AOL.Com
at December 24, 2007 15:16 said:
I am trying to find a copy to purchase.
---
Comments are disabled while we deal with some database issues. We apologize for the inconvenience