Alfred Hitchcock'sWhy?Mystery Game Milton Bradley - 1967
2 - 4 Players; Ages 12 - Adult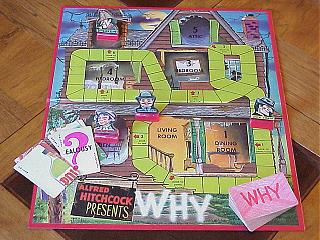 In Why? the great director Alfred Hitchcock has discovered a house which is being haunted by six ghosts. He has called in the Private Eyes (the players) to discover which ghost is haunting the house and how they were killed.
The players (as Dick Crazy, Shyulock Bones, Charlie Clam or Sergeant Monday) travel through the house collecting cards. Each player starts with seven cards and they collect other cards from various rooms of the house, from the "yard" (the discard pile) or from other players they encounter.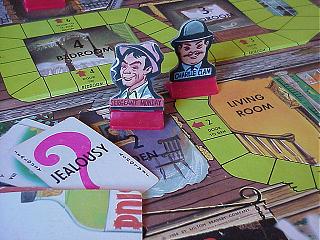 There are three types of cards, "ghost" cards, "weapon" cards and "motive" cards. The portrait of each ghost and the drawing of each weapon are divided onto four cards and the player must collect all four cards. The first player to collect a complete ghost, a complete weapon and a motive is the winner. (For example, Napoleon (4 cards), the rope (4 cards) and the "Lover's Quarrel".) Alternatively, a player can collect all six cards needed to make the portrait of Alfred Hitchcock and the "It's a mystery to me" card.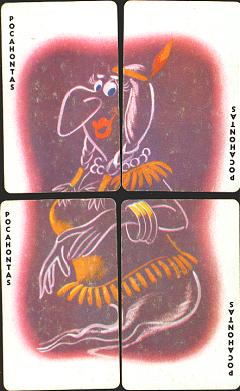 This is a marvelous game. The portraits of the ghosts are great fun and the game just oozes with flavor. The ghosts are Daniel Boone, Pocahontas, Napoleon, Nero, Cleopatra and Henry the Eighth (the rules say they were returning from a costume party). The "private eyes" are obvious parodies of famous detectives from fiction. Not a very difficult game but really quite a lot of fun.
The original version of this game was released in 1958; the version here is the 1967 release (distinguished by its box art).
---
34 comments on Why?:
Phil
at November 13, 2013 11:05 said:
I have the 1958 game - all is complete, and in good condition, but the box itself id a bit rough.

If anyone is looking to buy - pjones@cogeco.ca
Darlene
at August 26, 2013 14:09 said:
I have the game with 4 missing cards. Wiling to sell for reasonable price.


beannie54@aol.com
Regg Duval
at April 30, 2013 17:11 said:
I have the 1958 WHY cards(59) like new. For sale $20.00
Shipping: from Montreal.

Email: rejeanduval@gmail.com
Alex Smith
at November 19, 2012 07:47 said:
I have the 1958 WHY game, with rules - all in excellent condition. Would anyone like to buy it?
Email me at: alexfabersmith@hotmail.com
Janice
at November 8, 2012 10:17 said:
I'd love to find the 1960's version of the Why board game. Don't know what happened to ours but I'd love to play this with my daughters. If anyone has a copy to sell at a reasonable price, please email me at integrityinvestments@q.com. Thanks!
Shirli Hutson
at June 21, 2012 12:51 said:
I have a m.b. ( 1960 ) version all there in good shape with instructions , will sell e mail tx.st.guard.rec@gmail.com
Lyndsey
at January 9, 2012 09:14 said:
is there a way i can get ahold of this game/ if anyone knows, email lyndseydollins@yahoo.com i will pay if need be.
pj
at June 27, 2011 19:10 said:
I have the 1961 game, all pieces are here and in great shape. I will sell it to the highest offer! please contact me, PJ paolabluebirds@yahoo.com
Scott
at February 17, 2011 16:06 said:
I found the problem...there's a space between @ & yahoo. Email sent...thanks!
Scott
at February 17, 2011 16:04 said:
Jeffrey Budd that is...
Scott
at February 17, 2011 16:03 said:
I've tried emailing you...the address is invalid.
jeffrey budd
at January 9, 2011 06:56 said:
Lou, Maybe not but nothing beats a rainy or snowed in day then a good boardgame.
Lou
at January 7, 2011 19:02 said:
I'm have an original from 1960; played only a few times back then. Then again last year with my son and some neices. I'm keeping the game, but to tell you the truth, today's it's not that exciting compared to today's video games.
jeffrey budd
at January 7, 2011 06:51 said:
Pat F. Or anyone who has a complete Why game and wants to sell it please e-mail me at Budd.Jeffrey59@ yahoo.com I just bought Dogfight from a guy now I'm looking for WHY. Thanks Jeff
jeffrey budd
at December 24, 2010 06:17 said:
Pat F, I am serious. Please e-mail me at Budd.Jeffrey59@yahoo.com and let's talk price. This is a serious offer no joking. Thanks Jeff
Pat F
at December 21, 2010 15:48 said:
I have this game and it's complete will sell if the price is right.
jeffrey budd
at December 19, 2010 07:18 said:
guys, seriously!!! If you have this game and want to sell it please e-mail me at Budd.Jeffrey59@yahoo.com I am interested in buying it. I would like it ASAP!!! Thanks Jeff
Darlene
at December 1, 2010 16:05 said:
Where can I buy this game?
Laura
at July 29, 2010 14:20 said:
I have the original complete game plus rules. only missing 1 player. will sell for the right price. jenjalis@yahoo.com
jeremy d
at January 27, 2010 12:41 said:
I have the 1961 alfred hitchcock mystery game, Why, and am willing to sell it to the highest bidder. Email me at hornztx@yahoo.com.
jimmy m.
at January 21, 2010 01:14 said:
Other games: Dogfights 1963 MB, Civil War Game 1961 Parker Bros., Park and Shop game 1960 MB, Pirate and Travler 1954 MB, Trivial Pursuit-Silver Screen Edition 1982 Horne Abbot/Selchow & Righter, Trivial Pursuit 1984 Horn Abbot/Selchow & Righter,and one Roulette game with no date found? E.S. Lowe Co. N.Y., 4 SALE!
jimmy m.
at January 21, 2010 01:01 said:
I also happen to have other games that I found while cleaning out an old house. Most are Milton Bradley and only one is Parker Bros. Also one unassembled truck tractor model AMT is the brand and the the truck looks like a 1977 GMC Astro 95. The box is in BAD shape but suprisingly the parts are all there still sealed in plastic!
jimmy m.
at January 21, 2010 00:50 said:
I dont know much about this game but I do happen to have an original 1958 Milton Bradley WHY game. The box is aged, 'old and dusty', but the insides are in GOOD condition and it sure looks like everything is still in the box the way it came out of the store! Yes I will sell to the best offer. jjmrph@hotmail.com Best price owns it!
gaylynn g
at November 14, 2009 18:25 said:
mike a - if you still have this, i'd like to buy it!
Mike A
at July 28, 2009 15:10 said:
I have the original 1958 version that I am willing to part with for the right price plus shipping. The box top is not in great shape, but the game is all there. I'll keep checking.
GayLynn
at April 8, 2009 14:18 said:
several months ago, i found several sites selling the 1967 why game. now i can not find anyone selling it. i have tried ebay & amazon & when i google why, this is all i come up with. any suggestions? thanks!
Toni
at April 6, 2009 22:01 said:
I loved this as a kid. I was thrilled to find it still in my mother's basement and can't wait to play it with my kids who are already bored by Clue...
I WANT
at February 18, 2009 13:12 said:
I would liek to buy this game. Anyone have it? The person who bought it for $1: I'll give you ten. write alset.alokin@yahoo.com
mike
at September 16, 2008 19:34 said:
in reference to Mr. Anonymous' question of buying the game for a $1 at a garage sale - the answer is: you were taken by an unscrupulous seller but to help you out of your predicament i'll give you back the $1 if you'll mail me the game
figment
at August 7, 2008 18:59 said:
I loved this game as a kid and still have fond memories of it today. Wish I still had the game. Going to see Dial M for Murder in 3-D this weekend.
jonathan
at January 27, 2008 00:39 said:
thanks for posting the instructions!
Anonymous
at January 21, 2008 12:03 said:
I bought this game at a gargae sale for a $1 in excellent shape. Was it a good deal?
Dennis, The Gamepiler
at January 7, 2008 10:46 said:
You can find a copy of the rules (in PDF format) at http://www.gamepile.com/gamerules/why.pdf
Anonymous
at January 6, 2008 12:10 said:
do you have the rules?
---
Comments are disabled while we deal with some database issues. We apologize for the inconvenience