FeudalThe Game of Siege and Conquest3M Company - 1967
2-6 Players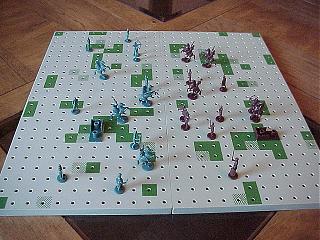 Feudal is a variant on chess. Like chess, the players maneuver pieces in an attempt to capture their opponent's. Feudal replaces the pieces from chess with the King, Prince, Duke, Knights, Sergeants, Pikemen, Squires and Archers. Also as in Chess, each piece has a particular manner in which it is allowed to move.
Unlike chess however, the board for Feudal contains terrain. There are forests and mountains on the board which affect the movement of pieces. The Archer is able to attack from a distance and can "slay" a piece from far away.
Setup is random. A divider is placed across the center of the board to prevent the players from seeing what each other are doing and pieces can be set up anywhere on a player's side of the board.
There is also a castle, which is a specific piece. To win the game a player must either capture their opponents castle or slay all of their royalty (The King, Prince and Duke).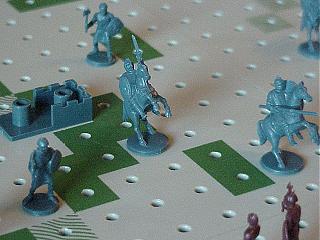 Feudal is an attempt to create a version of chess which plays more like a wargame. It falls somewhere into the middle ground which I think would cause it to lose most of its audience. The game is still too abstract to attract many avid wargamers and the variations are unlikely to appeal to hardcore chess players. Still the game can be fun, the pieces are very nice and there are provisions for up to six players. A fun game for a change of pace.
---
110 comments on Feudal:
redfoot
at January 13, 2014 13:22 said:
I just realized I didn't leave my email from my last post about using Warhammer figures. it is redfoot45@hotmail.com. I could have skeleton armies, Elf armies, zombies and many other possibilities including conventional looking ones for the purest .
keep posting I love reading stories about the game.






redfoot
at January 5, 2014 20:30 said:
I thought I was the only one who felt feudal was the best game ever. I've enjoyed reading all the positive posts about the game. I especially enjoyed the ones from the dads who have taught their kids just like me.
I've been day dreaming about painting Warhammer figures and building my own playing field. The basis of the horse figures are about 2 inches so the field would have to be four foot square. An army of 13 might cost about 100 bucks without paint. 6 armies is going to cost me and I'll have to learn a whole new hobby, but wow what a game. Has anybody ever used Warhammer figures for the game?
Email me with your success story and pictures if you have them. I need ideas for the board.

glenn
at December 22, 2013 09:39 said:
An easy way to make the board larger, and make the game more strategic (less of a bloodbath initially) is to change the moves of the pieces as follows:

King, squire, archer: no change
Pikemen and sergeants: reduce the 12-square movement limit to 3 squares (leave the 1-square limit as is)
Mounted men: reduce the unlimited move to 4 squares.

This accomplishes several things: the initial slaughter that can result from poor (or unlucky) initial placements is eliminated, the mobility is better balanced (archers and squires can be part of field armies), and mounted forces more accurately represent feudal times (they were mounted on large, strong, slow-moving horses, thus didn't move significantly faster than infantry, but had greater power in battle.)

Using this variation, you get the same "feel" as the orignal game, but campaigns develop over several turns, rather than sweeping across the whole board in one move.

Just a thought.
Rich
at October 9, 2013 16:28 said:
Was looking for the rules. Found them and then saw your site. I was playing this game when it came out back in late 60's.Truly an awesome game. One I have now came from a thrift store. In great condition and complete except the rules. Hope to see a PC version someday.
Ron
at August 5, 2013 14:11 said:
Well thanks to Ebay I now have 7 games and all my brothers and sisters have a game too. I even got some extra armies and pieces. Now I will teach my kids and develop a multi-board game play.
Ron
at July 3, 2013 15:21 said:
I am building a collection. Does anyone know a former 3M employee with a few hundred games still in the plastic in his garage?
Joey
at June 13, 2013 21:18 said:
I find it pretty amazing that all these people are saying how awesome this game is, because I am now 14 and I still play this game with my dad, and friends. If you do end up making that online game message me a link to it at fghj49286@yahoo.com I would love to play against some people other than my father, because I know his strategy now.
wyattlance@gmail.com
at May 23, 2013 17:02 said:
Hi- I have an unopened original 1969 copy of this game. Still in it's original shrink wrap and packaging, if anyone is interested definitely make me an offer while I still have it:
wyattlance@gmail.com
benoit
at March 15, 2013 13:29 said:
i have 1 for sale it all there benoit.787@hotmail.ca
accbball00@yahoo.com
at March 12, 2013 12:35 said:
I loved this game as well. Is there still talk of an online version???? its tough to find players these days.
Flash0516
at January 30, 2013 13:46 said:
I have an unused Feudal board game for sale. I can be contacted at flash0516@yahoo.com. The "0" is a zero, not letter
Flash0516
at January 29, 2013 14:11 said:
I have an unused Feudal board game. Is anybody interested in buying it?
Readitnweep in Chattanooga
at January 18, 2013 11:11 said:
If you love this game, like I do, then please consider "liking" the game on the Facebook page I created:

https://www.facebook.com/FeudalTheGameOfSeigeAndConquest?ref=ts&fref=ts

I'm lucky to have my brother to play with. I've played a couple matches with other people, but they aren't as excited about Feudal as my brother and I are. I played it growing up, so I asked my wife to get it for me for Christmas. It truly is wonderful as I am reading about tactics and trying them out against my brother.
ddland45
at January 5, 2013 21:03 said:
I've owned a set of Feudal since the mid 70's and I have to admit, it is still the best board game I've ever played. I play with my 2 sons and we never get tired of playing. Now I have recently found 2 used sets for 20 bucks and I'm anxious to assemble all three sets for a mega battle on a custom 3-D board with real forests, hills, streams and castle walls!
"It will be GLORIOUS!" -Worf
Bob from Princeton
at December 22, 2012 22:23 said:
I played Feudal often with friends 30-35 years ago, but someone made off with my set. Recently purchased a slightly used set and am anxious to introduce my sons-in-law, but I'm not sure that I remember the rules correctly. There were none in the game I purchased and I can't temember whether there were separate rules provided beyond the move summaries on the divider screen. Were there more elaborate rules (I hope!) and if so where can I get a copy? Thanks.
Joe Blanchard
at December 4, 2012 20:45 said:
Sell me a set Anthony! Some young 19-22 year olds in our community are starting board game clubs playing magic and war hammer...They would go nuts over Fuedal. Could you part with a set?
Vincent Lopez
at October 8, 2012 19:21 said:
do you still have one of these board games a your place

Anthony Servante
at June 12, 2012 02:25 said:
I was the first Master level player for FEUDAL--for all of a month. The league didn't last. Chess players didn't get the battle tactics, and battle tacticians felt limited by the chess-like moves. The mountains and rough terrain become crucial to understanding strategy in this game. I've been waiting for an online version for years now as all the friends I played the game with are all grown up (good for them!!). Include me if someone starts some form of club. I own three sets. I pick them up at thrift stores whenever I come across them. Feudal rules!
Michael
at June 11, 2012 16:46 said:
I've had this game for many years, my friends I grew up with used to play all the time, we basicly played by the rules but we would use all 3 armies, blue on one side, brown on the other, for a two person game. Have been looking for other copies of the game to incorporate into a larger version of the game. Always thought that would be awesome, just cant find any.Help?

tim from cincinnati
at April 1, 2012 13:59 said:
rules and details on wikipedia
http://en.wikipedia.org/wiki/Feudal_%28game%29
gor llewin
at October 13, 2011 07:49 said:
yes, i too have found an old, slightly damp, yet complete set of ''feudal'' in a 2nd hand shop. [where are they all coming from?] i am getting ready to play. only slight
compliant, the appearance of the board is rather sparse compared to the soldiers. something more pictureque, and a river or two would add extra realism
Jeff
at September 29, 2011 20:36 said:
I played this as a kid with my older brother. it was awesome then and it is awesome now with my sons.
Megan
at July 10, 2011 14:51 said:
I have a Feudal game for sale. Contact me at megantrower@yahoo.com.
Jack Trahearn
at May 23, 2011 09:41 said:
There is a downloadable java version with a lot of bugs! from what I've gathered some of Simien's friends are putting together an app version. their talking turn based email play..but I would suspect live play is in the works as well. I'll keep you posted.
RON LEE
at May 13, 2011 01:28 said:
YEA THIS IS A GREAT GAME, BUT YOU ARE RIGHT,FINDING SOMEONE TO PLAY WITH IS A CHORE.
HAD THIS GAME FOR 37 YRS.ONLY PLAYED IT MAYBE 10 TIMES.IT IS LESS CONFINING THAN CHESS,BUT JUST ABOUT AS COMPLEX. COULD BE GREATLY IMPROVED
THOUGH WITH A MORE GRAPHIC BOARD.AN ONLINE VERSION WOULD BE SWEET.
Clinton
at May 9, 2011 11:56 said:
and friend at work just gave the game to me last night, and i was up with my friend playing it until 2am. we didnt know what to make of it. he and his girlfreind were on a team vs. me and we had a blast. if this game had an app i would defidently consider buying it. we just found our new favorite game
tsang-su
at April 16, 2011 22:41 said:
I bought this game along with Ploy back in 1970-71. Loved it then love it now. My kids play it now. Just got clobbered by my 12yr old daughter when I thought the game was mine. We were playing the free-for-all setting. Great game. Lost PLOY.
Big Pete
at March 24, 2011 12:35 said:
started to play the game when it first came out . Played with as many as four boards and six armys each with only one king and one castle for each player and up to four players .
note: had to mark your armys so that you would know them.
one longest play lasted seven days.
Micki
at January 4, 2011 18:39 said:
I have a complete game. Anyone interested?
email me at mickimouse58@live.com
alfonzo williams
at October 18, 2010 21:38 said:
i love the game ,i played it before ,im willing to buy the game and play you ,email me at walkandcheck@gmail.com


Simien
at August 27, 2010 09:35 said:
Wikipedia is a great source for rules on the old bookshelf series. I love this game but I've noticed the more I play it as an adult, there is NO way to raid the castle. in Every game I've ever played each player loses almost all his army?
you get to the green and just trade pieces for a while and the one with more pieces wins.....really harsh'en ma' Feudal buzz.
(P.S. if you haven't already found it Google "Hex Empire"
its like Risk but team choice is super critical!)
Joseph
at July 20, 2010 20:55 said:
I have the game, but not the rules. Looking for a link.
Bogie
at July 7, 2010 23:51 said:
Wow, still current posts!!! Was looking to see if the application, online or iPhone 4 app is ready for this game ;-) Played quite a bit as a kid and found a vintage copy about 10 years ago that I purchased for $5. Plan on forcing.... I mean ... teaching my children how to play.
Jason
at May 22, 2010 20:40 said:
Been playing this for years. Ready to get a new copy as mine is beat to death...

My friends and I like to take color sides...play all six armies in a two player game.

Simien
at April 8, 2010 13:33 said:
Online...anyone....anyone??
Rosiemack
at April 7, 2010 08:22 said:
Oh yeah, and for all you old, (you gotta be old to remember Twixt!), Twixt players, go to twixtlive.com for online play.
Rosiemack
at April 7, 2010 08:12 said:
Is there an online version of this available? I have not played since the 70's, but I would love to! I still have my game and most of the pieces. I am in Cleveland, Oh. and would love to play thru IM, email, or any way you can come up with. Sunchaser763@gmail.com
Technastar
at January 26, 2010 23:23 said:
When will the online version be released?
Tod
at January 16, 2010 20:01 said:
Connecticut yes good hippie game. How do you play on line.
Ron
at January 11, 2010 05:53 said:
I have been playing this game for years. Very hard to find anyone to play with. Is there anyone out there?? New York/ Long Island?
Ale, from Roma
at January 11, 2010 04:07 said:
One of the best board games I ever played.
My friends and I, we are all great fans and hardcore players in our winter nights...
mark
at December 31, 2009 06:07 said:
I have the game in the original box (1976) good condition available. If anyone is interested in it email me offer at mfoster@libertylawnservicellc.com
jeff
at December 30, 2009 23:04 said:
I'm 47, bought this game in 1973 and just loved it. But after playing a lot of games it became apparent to me what the problem with this game was. No matter what you do, the games always come down to a couple pieces left. Your whole army would be slaughtered by the time you took the castle. I think you have to make your own alternate rules for this game to be more entertaining. like maybe adding dice for attacks or giving attacking pieces a chance to escape after taking a piece so that the game doesnt always come down to each others last few pieces. That's the only problem I have with the game, the fact one player cant just totally wipe out the other like what is possible in chess, and if you think about it...the real thing.
Shagal
at November 12, 2009 09:15 said:
I picked this game up my senior year in high school and have been playing it since. I'd like to gt a hold of some original pieces still on the tree, to make rare metal investment casting. I had a jeweler buddy of mine make a board out of silver and malachite, and i want pieces to match.
cyclo599
at November 11, 2009 22:59 said:
this game is the best!!!!!! im playing it right now!!!!
Steve' Ray
at September 1, 2009 20:06 said:
Great post! Just remembered the name of this game I used to play often in the early 80's, google search and here I am! The internets great which is why I'd like to know what happened to Brad's online version he started back in 07'? (see the first dozon or so posts here).
Nothing but awesome memories of this game as I also had 4 sets we would combine into hugh boards and armies! All lost to theft over the years but i see some on ebay for sale I may buy. I also love the above idea on Feudal Con 09'! I live in Monterey CA. so anyone near with a set, i say, lets play!
daniel
at August 18, 2009 13:51 said:
Anyone up for putting together a Feudal Convention Weekend with the winner crowned King for 1 Year (with perks)?
Gavin Kemp -
at July 21, 2009 19:24 said:
Hi All !!! RE: Feudal - I just opened the game and started reading
the instructions and laying the game out... It seems that
all the pieces and instructions are here. My mother bought me the set as a gift a few years ago. I finally decided to
start puttering around with it...

Thanks All for the instructions clarification. It seems
like there are alot of strategies that can be applied !

Later !!
John Tackett
at July 19, 2009 13:40 said:
Had problems with my Email address,had to make a new one. It is now johntackett30@yahoo.com. Also have a couple of original Revell plastic airplane model kits;a B-17 Memphis Belle and a Corsair F4U-4 for sale. Anyone interested can reach me at my Email address.
john tackett
at July 17, 2009 21:35 said:
Due to being laid off for almost a year,I have to sell some of my 'toys';I have a Feudal game complete.All pieces are there with instructions,divider,boxes,and are in VGC. Outside of box has some smoke damage. Anyone interested in buying the game can reach me at johntackett51@yahoo.com .
Steven Barker June 26, 2009
at June 25, 2009 09:57 said:
Have not recently,But have hundreds of times.Awsome game.It is like chess and Risk rolled into one.No one game is the same.Strickly strategy,No cards or dice rolls.I have even put two sets together to make one mega board.
Boniface
at May 12, 2009 11:04 said:
I remember buying this game when it first came out. My brother and I played it a lot. It's great fun. I wish they still sold it, I'd buy another set immediately.
ddland45
at May 9, 2009 15:42 said:
I need information where I might purchase additional game pieces for this game? I've always loved playing Feudal. My sons who are 25 now grew up playing and want to expand the battle!
My e-mail address is aven1@comcast.net if anyone has info or a game or two they want to sell.
Cory in Glendive
at May 4, 2009 03:32 said:
My parents let me play with this game when i was very young, needless to say i lost many of the pieces, as I became older I became more interested in chess and other games of the sort. Now that i have inherited the game, i need a replacement, found another set on ebay, I now have a complete set and now its just hard to find someone who gets as much pleasure from playing it as i do.
Dick In Reno
at April 15, 2009 20:35 said:
I loved this game when I was a kid !!!

We were bored with chess and checkers and this was the only other game in the camper other than cards.

I am gonna buy one again real soon !!

* puts it on his list *
Greg in Buffalo
at April 15, 2009 14:18 said:
I've owned the game for at least 25 years and I think i'm going to replicate the board in exotic hardwoods and have all the pieces cast in 2 colors of pewter.

Best strategic game ever made in my humble opinion. Maybe when my sons get older they will play with me.
Ceha in Can
at April 1, 2009 14:14 said:
Had made a giant board out of peg board, painted it , mountians with foot paths etc.. made this even better. Give way more options. Pretty easy to replicate and DIY.
AL Z in Buffalo NY
at March 31, 2009 13:21 said:
Played the game 30 Years Ago. We use to use half the board for 2 players, or play the board vertically, or use more the one army.
david in new york
at March 24, 2009 10:39 said:
I have had my game for close to 35 years now. 3M version is a little differnt in packagig and the pieces are colored a little differenntly from Avalon Hill, I believe. Finding someone to play is getting easier as I have introduced the game to a number of younger kids who want to play.
Best board game ever invented, I wish I had the other original book shelf games from 3M.
David
Jan
at March 8, 2009 14:25 said:
Best game ever
tmalia
at February 22, 2009 08:44 said:
I have been looking/hoping for an on-line version of Feudal. I love the game. Can't find anyone to play with.
chad
at February 14, 2009 13:50 said:
sounds cool i just got it today and wonderd how to play i saw the little men and loved them and im going to play with my brother today and im just 8 and hes 14 ps happy valintines
Tex
at January 10, 2009 03:12 said:
My brother had this game and boy did we have somebattles. Then he found a glitch in the terrain where you could set your castle inside some mountains...put an archer guy in castle and something else(can't remember) and there was no way to get in.You'd get shot by the archer before you could get there with any pieces.

You could have your whole army and all he needed was a couple of archers and theking and he was inpenatrable.

We really liked it. It was fun...and the little detailed pieces were cool. Those were the days.
Glenn
at January 3, 2009 02:18 said:
I played this with my older brother in the 70's. Man, a long time ago. I loved it, especially looking at the pieces. I would love an online version of it.
Rotaidalg
at January 1, 2009 15:39 said:
Just played a long game w/my wife last evening (yes, not the most exciting New Year's Eve!)
I've had this game since I was kid back in 1971. I liked it much better than chess.\
My "nerdy" friends and I used to play it a lot during my teens. We'd usually start with all three armies on a side and just leave out the Vassals' castles! :) Gets crowded!
We did the rearrainged board quarters too for variation (and to try to eliminate terrain memorization - though we were still pretty good at remembering the Avenues of Approach, mountains, etc.)
Kimo
at December 20, 2008 14:26 said:
If you can rearrange the four boards, the variations help. If you can't, you can become used the boards design.

Feudal allows for a lot of variation and hardly a boring game.
Chess, on the otherhand, is played by two types of players:

Like me, who move pieces about on the board and make ridiculous moves at times. This usually results in some odd games.

The second type of player memorizes the first 10+ moves and will play the same moves every time they play. Each time they play, its the same moves. Chess is mechanical because you must move and countermove the same way all the time. The only time pros who play find an interest is when they've run out of the robotic moves they've been doing for years.

As for quick charging forces? I quick charging force can be defeated if the defense is well built.

The difference between chess and feudal? Feudal, you can back up your pieces. Change from offense to defense and back to offense. Allow backing up in Chess and the whole game becomes different. Until they do that, Chess is nothing but two beginners having fun making stupid moves, or two pros making programmed moves for the first half hour to hour of the game. That's boring.
Nick
at December 6, 2008 22:52 said:
No offense, but I hated this game. I am a decent chess player, and I enjoy a good game of Risk and other such tactic games, but this game was just too mixed to enjoy. After some study, it was easy to remember a pieces moves, but the amount of squares one could travel, and the amount of moves possible in a single turn were daunting.
One mistake is often a quick end, as you can lose all your pieces in one offensive action. Defense is often a losing strategy, no matter how good you may usually be at it. A quick charging force seems to win no matter what.
I played three games in one night, and watched a forth, and found it an unappealing game that I would not consider again for me or my friends.
Dale A.
at December 1, 2008 01:27 said:
David, I think Hasbro owns the rights to all the old Avalon Hill games. They are a tough nut to crack.
David
at November 30, 2008 20:15 said:
Any one know if this game is now considered to be public domain or would I be required to get "rights" to produce a commercial product... (like a computer version, etc. etc...)

Thanks!
Kimo
at October 30, 2008 11:13 said:
King moves 1 or 2 spaces horizontally, vertically, or diagonally.
Mounted Men (duke, prince, knights) move any number of spaces H,V,D. Remember, mounted men cannot move onto or across rough terrain.
Sergeants move 12 spaces D or 1 H or V.
Pikemen move 12 spaces H or V or 1 D.
Squire moves 1 space either H or V followed by 1 D. The diagram on the movement shows the squires D move as being a forward motion. That is 1 space H or V followed by a D move that is maintaining forward motion.
Archer moves up to 3 spaces H ,V, or D.

All pieces (except archer) land on an opponent to capture/remove them. The Archer fires up to 3 spaces away H, V, or D. The Archer can only hit the target first in line. e.i. three targets in a row, hits first target. The Archer can fire through friendly or unoccupied spaces.

The Squire can move over an occupied space (like a chess' knight). It is the only piece that can do so.

To win, place your piece inside the enemy castle or capture/remove the three royalty (king, duke (with the axe) and Prince (with lance).

Movement onto the green ends that piece's movement (except the squire which doesn't actually enter the space) (the green is the space outside the castle).

The game comes with 6 armies. Two opponents or two groups of opponents use one castle, one set of royalty and as many armies as desired.

The four boards can be divided for four players to play, each playing an entire army (complete with castle and royalty).

Army: 1 of each royalty: King, Prince, and Duke. 2 Knights (mounted men), 2 sergeants, 1 squire, 1 archer, and 4 pikemen. 1 Castle walled on three sides with a green connected to the open walled part of the castle.

The castle can be placed anywhere on the board. The green overrides whatever terrain it covers on the board. i.e. if the green covers rough terrain, the green is dominant as terrain (open to all pieces to occupy, including mounted men).

Unlike chess, in Feudal, your pieces can move backwards, too. An often forgotten tactic with beginners. Imagine chess with the option to retreat. It changes the tactics of the game. In Feudal, you must consider defense and offense. A major point of the game is to take pieces, without return equal losses.

Also, the mounted men have unlimited movement H, D, or V. That's important to remember when you need to immediately retreat to protect your own castle. The 12 spaces for pikemen and sergeants is the length one square board. Don't let your infantry become trapped behind mountains in the enemy's land.

Remember the archer's ability to shoot over allies. The archer can remove the first target, allowing the ally to then move through the vacated spot!

The squire is good when you need to get passed opponents and allies.

Rough terrain is great for footmen for defense.

Remember, the three royalty can be defeated to win the game. Sometimes, just leave the castle alone and hunt the royalty. I've beaten more opponents this way. Then, they hide their precious little kings in their castle - leaving them with one less piece on their board. It sometimes is a good tactic, sometimes not.

Make entry to the castle difficult - the least number of entry ways. Properly places castles can limit this down to two usually. If you make the entry way diagonal, then you make it hard for pikemen to move easily into the castle and vice-versa with H,V entries. Consider the pieces that can beat you over others and hunt them down.

If you have boards you can set up anyway you want and you want to hear of the three army castle setup that is virtually impossible to beat, let me know...
Kimo
at October 29, 2008 16:32 said:
My brother and I played many times in the 80's. I found a set a few years ago.

The difference in his set and mine is his boards were free from each other and had no painted mountain corners. My four boards are 'connected' and have the four corners painted as mountains.

I kind of liked the four boards unconnected as give gave us many more variations.

At least one piece has to move on your turn and you can move them all if you like. In this game, sometimes you'd move forward and attack, and then change tactics and run away. I found both were necessary maneuvers throughout the game.

The rules states the Archer and the Squire cannot start nor enter the castle. That is good regarding the archer because the archer 'fires' into a square to remove a piece. A piece entering the 'green', which is the space right outside the castle, has to stop movement per the rules. An Archer, being inside the castle, would just shoot the target in the green, making it virtually impossible to take an archer out. The only legal way to beat the archer in the castle is to have your own archer fire across the green into the castle.

With this tactic, the archer inside the castle, all you'd have to do is kill the enemy archer and they can't take the castle (unless you have no pieces left). That would leave your entire army to attack the enemy castle without having to defend your own.

My brother and I played three armies against each other. With being able to set the four boards anyway we wanted, he found an absolutely incredible defense position for his castle that was virtually unbeatable. I found that out the hard way and I tried several times.

My instructions are from 1969
Thomas, Lehi Utah themosshouse@netzero.com
at September 27, 2008 23:45 said:
Ive been playing Feudal for years, a couple of years ago I found a game store that sells them and I bought a new one. I would be stoked to play this game on-line or even against the computer. Someone needs to make this happen!
Brian in Fargo
at August 4, 2008 19:19 said:
@samoyer: I want to point out that as you can see in the link here...
http://s102.photobucket.com/albums/m93/Bschott007/Feudal/?action=view&current=Page2.jpg

In order to play by the offical rules: "During his turn, each player may move any or all of his men; at least one man must be moved per turn."

You do not have to move all of your men per turn.
Brian in Fargo
at August 4, 2008 19:13 said:
I. Love. This. Game.

My Grandparents on my mother's side bought it for my mother back when she was a child. Later after I became interested in chess in my youth, my father and mother would play this game with me, sometimes three or four games a night.

When I went off to college, they gave this to me to take with and my college friends loved it! Now I play this with my girlfriend all the time. Surprisingly, after all these years, moves between cities, and games between people none of the pieces are missing and all are in good shape.

Anyway, I saw this site and thought I would be a nice guy so I went ahead and scanned my copy of Feudal for you!

I scanned the back of the box, the 'binding' side of the box, the inside of the dividing screen, and the entire rule book.

Feel free to use the scans here or where ever and remember to share this game with your children!

http://s102.photobucket.com/albums/m93/Bschott007/Feudal/
Dennis, The Gamepiler
at July 22, 2008 11:00 said:
@Steve - Thanks for taking up the slack while I was locked out of my own site. (Don't ask.) Nice summary of everything.
Steve
at July 2, 2008 11:34 said:
p.s. no-one can jump or shoot over a castle wall. Only one way in and out which is via the castler green. The official rules say the archer can not enter the castle. I've always allowed it for more varity. The rules say an archer can shoot 'across' the green (including diagonal). Good feature if you place you castle between mountains creating a wall to defend behind.

Starting the game is done by coin to decide who goes first. The person who goes first usuall trys to own as many lanes in his setup for attacking, the other opponent sets up defensively behind mountains defending all lanes to his castle. Hideing because a screen blocks your view. If I must defend a line in the open, I may set my slow squire up front and other pieces hiding behind him. My archer is often set to shoot anyone who takes my squire. With men behind the squire I can "shoot and take" meaning I can shoot your first man in line clearing the way for one of my men to take the second man. Taking an archer usualy requires sacrifice. Sometimes, you have to do it.

If allowing an archer into castles, the archer can not shoot diagnally into or out of the castle. The archer can shoot across the lawn directly into the castle and kill the king. The game is not won until you enter the castle or capture all the royalty. The Prince and Duke (horsemen) are not that easy to trap, but without the king they're not as bold, and actually timid if their the only royalty left. Keep track, don't let him bluff you when he won't do it.

I hope I have raised enough interest in you to give it a try. As others hint at looking for someone to play with, the game will hook you. I would love to see a renaissance.
Steve
at July 2, 2008 10:55 said:
corrections:

The link provided by Dennis are not the official rules. A great feature of the game is you can use up to 3 armies or define your own army size. The decision of using force or tatics change throughout the game. If well protected, I move around making my opponent adjust while I watch for a weakness.

The Squire moves exactly like a chess knight 1 horiz & 1 diag - or - 1 diag & 1 horiz. (wrong above). Given this, a squire is the only piece that can not move into the castle from the castle green. Again, all pieces must stop on the green.

Horsemen can get somewhere fast, while the king, squire, and archer are the slowest to get across the board. Castles next to forests allow added protection from horsemen. It's common to set an archer in the forest who can shoot anyone who lands on the castle green. Using this tatict, I've traded horsemen (queens) for opponents footmen, if he has no footmen, I can protect my castle (and king inside) with 1 archer in a forest and use the rest of my men to attack his castle. Having the king inside the castle also prevents loosing all my royalty.

What pieces are valuable may change. i.e. I've even sacrificed (put them at the head of the line) my slow men (king, squire) up front. Leaves me quicker and nimbler given I captured his faster men in the exchange.

Every game is different. And the varity is mostly limited by our imagination. Try a chess clock for another change.

For two experienced & equal players I find a game can range from 1hr up. 2hr is not uncomment and 3hr is not unheard of. Time between moves depends upon the number of men and patience. I've had problems develop which have taken me 20min to decide what to do. Usually 2-10min per move.

Another technique I use. Finish the fights I start, meaning take the 1st and last man in the exchange ending with one man up on my opponent. (2 for 1, 4 for 3). Fighting is not just for attacking castles, most of my fights are for the avenues allowing easy movement between the two castles (attack & defend). Own the aveneues and watch the lines to your castle! You opponent could look spead out or defending his castle and find 5 men at your door step in the next move.

In essence, your a general. The field changes and so must your taticts. Overwhelm, or stratigic? The game, like chess hinges on a balance of power. Moves can be considered training exercises where you propose threatening positions. A cold war until the balance shifts. If you can gaurd agains 1 chess man, can you guard against 13 or more?

If you like strategy (or power) you will love this game. Get it. If you found one, Play It! Challange those who play chess.
Steve
at July 1, 2008 20:25 said:
My ending list was backwards. Best use the official rules.
4 rooks are "Pikemen" with spears
2 bishops are "Seargents" hith hatchets
Steve
at July 1, 2008 20:20 said:
Still my most favorite game. Even over Wii.

cvanbrus - yes

Brad - I'm interested. The only downside to the game is changing your mind and trying to remember where everone originated from. Having the game keep track is essentail!
Ever thought of experience levels? Possibly color coding tiles which can be reached by other opponents. As you progress you can loose or turn them off to rely on your own skills.

Robert, et.al.
For those who have not played. What makes this game awsome is the ability to move all your men once per move. You can flank, flood, or take a line, like the line running next to his Castle. Similarly, defending can resemble walls, ambush (you can try if you want), and develop other techniques like shoot & take (2 for 1 exchange), revolver (hold a line), and even distractions. Except for the Archer, other pieces move as chess men making it easy to learn if your familiar with chess. Basically you have 2 bishops, 4 rooks, 1 knight, 1 king, and 1 archer constitute footmen, and 4 queens who are horsemen. Footmen can only move half the regular 4 piece square board (12 spaces) and can use the forest (shaded squares). Horsemen (queens) can move the entire length of the board (24 spaces) but can not enter or cross forests. Two ways to win. One is to capture all the opponents royalty (king and 2 of the horsemen). The other is to enter their Castle.

The Castle covers 2 squares consisting of a Castle with 3 walls and open to the Castle green. The Castle green is open on 3 sides for easier access. To enter the Castle, you MUST stop on the Castle green. Even if your just crossing over. Because of this castles are often placed to block passage ways from which your archer can fight behind. Placing an archer in your castle would prevent anyone from entering as you would shoot them as the stopped on the green. In such a case, the opponent would either have to capture your royalty or move his archer 3 spaces shooting directly into the castle and sacrifice another man placing him in front of his archer so you would have to shoot the first man in line during your turn, and he could then shoot your archer on his subsequent turn.

One added comment on movement. Bishops which move diagnally can also move horizontally 1 square as their move. The same is true for rooks which can move 1 square horizontally. Good to have when defending your castles and unlike chess, you are now able to move a bishop from the white squares to black :-)

rook - Seargent - hatchet - diag 12 spaces (or 1 horiz)
bishop - Pikeman - spear - horiz 12 spaces (or 1 diag)
knight - Squire - sword - horz 2 and 1 diag (or 2 diag and one horiz)
xxxxx - Archer - shoot OR move 3 spaces horz OR diag
king - King - sword - 2 spaces horiz OR diag
queen - Prince - horse lance - 24 spaces diag OR horiz
queen - Duke - horse hatchet - 24 spaces diag OR horiz
queen - Knights - horse sword - 24 spaces diag OR horiz

Castles may be placed over mountains as the only way to cross a mountain. Once a castle is placed. It is pemanent for the game. See prior post by Dennis for official rules.
Raul
at June 23, 2008 21:46 said:
I have one for sale, like new with instructions 2 set are open other 4 are in bag never opened. I'm asking $ 30.00 plus shipping.

raulzamora1@aol.com
Wileye
at June 2, 2008 13:27 said:
I bought my Fuedal game when I was in the USAF and it went arround the world with me. 35 years later I still play my sons when they come to town. All have their own, picked up from yard sales/thrift stores. Though mine is in the worst shape: a blue duke three pikemen and a squier have deserted and those who remain have lost their pikes, axes and lances. I'd like to know where to buy replacement parts. whuntleye@hotmail.com
Robert
at May 22, 2008 20:33 said:
where can a person download the game rules or instuctions for Fuedal ? I have the original game in the original box with everything except playing instructions. Any help would be greatly appreciated. Thanks

roberthanse@hotmail.com
cvanbrus
at May 10, 2008 12:12 said:
I just had my whole set painted. Each army is a different color. Awesome. Want to see pictures?
samoyer
at April 14, 2008 13:13 said:
In order to play by the offical rules of all pieces of the same color must be moved by the player, I conclude that you need to have a duplicate game of feudal. Basically, the other game would be used to keep track of what pieces that were moved by the player of the same color.
Terri SalinAs
at April 10, 2008 22:44 said:
Hi My husband and I do estates and came across this game unopened and in immaculate condition if anyone is interested make us an offer..

tnasalinas@yahoo.com
Carrie
at April 7, 2008 08:26 said:
My boyfriend bought this game in europe more than 10 years ago i think and when he opened it there were no instructions on how to play the game..could some one email me the instructions so we can make use of the game
thanks charget3@uncc.edu
lew
at March 27, 2008 15:43 said:
been playing Feudal since purchased 40 odd years ago. best game ever. can't find anyone to play anymore. all are too lazy and only want to play computer type games. selling my game for $20, as well as $15 for TWIXT. both are full sets, boxes are slightly worn. chicago area. quatro_cook_1@hotmail.com
jimbo73
at February 15, 2008 04:12 said:
i would really like to see a computerised version of this, can someone send me the url or a copy to download?
james.rennie7@btinternet.com
sean
at February 14, 2008 20:55 said:
I played this years ago and still think it is the best board game ever. I lost my game in a flooded basement years ago and would love to find a replacement. Any leads?
socialhist1775 @yahoo.com
Brad
at January 30, 2008 22:41 said:
I am glad to see a few folks are looking forward to an on-line version. As an update, progress is going slow, but it is still moving. It's hard to come home from a day of coding and write more code, but I am very excited about how well it is turning out so far. I will post some screen shots soon and hope to have the free "classic" version ready for beta testing in the coming months.
mick
at January 27, 2008 22:25 said:
I got Feudal and a couple others in the late 60's.
I've been playing games my whole life and Feudal has to be the most perfect board game I have ever seen.
I was just looking at the box. and yes, I do have the simple instructions.
chambers@chartermi.net
Lee
at January 25, 2008 14:46 said:
My first memories of playing board games was Jumpin, Twixt and Feudal. Although I don't think my brothers and I ever played Feudal the right way. We just set up and started attacking each others pieces.
robyn
at January 14, 2008 03:37 said:
I have a game of feudal and twixt in this series, if you want them give me an offer. email address is sanorea@bold.net.au I am from Australia
Kevin
at January 8, 2008 17:06 said:
I found this game at Deseret Industries a few months back. Havent gotten around to playing it yet but the rules make it sound very interesting.
wannee
at January 3, 2008 18:08 said:
Best game I have ever played. I was just looking on line for someone to play with. I hope Brad gets it going. Has anyone out there had the joy of 6 players with 6 armies - wow.
Gunter
at December 18, 2007 13:17 said:
*Thank
Gunter
at December 18, 2007 13:16 said:
Thnak you, Dennis
Carter
at December 14, 2007 21:51 said:
A online game would be killer! and the slow tempo of emailing turn by turn once or so a day would be nice. Give some time to really think out turns. I'd play! GOOD WORK!
Makes chess look like checkers.
Samantha
at December 13, 2007 09:57 said:
Do they sell it anymore. I have seen the game on shopgoodwill.com for sale in an auction, but no where else. If anyone is interested it goes off auction today.
Aarrestad
at December 11, 2007 15:10 said:
I found this game at goodwill a few years ago, and never got around to playing it until recently. I've never seen a game quite like this and I find it very entertaining! Does anyone know where I might be able to find more of these games, so that I may expand my playing field?
Dennis, The Gamepiler
at December 11, 2007 08:00 said:
You can find a copy of the rules at http://www.1stingames.com/rules/feudal/index.pdf
Bill
at December 10, 2007 17:08 said:
My brother and I played this game years ago... I'll have to ask him if he still has it and I can get access to the rules.
Gunter
at December 10, 2007 11:52 said:
My wife found this game among her recently deceased father's possessions and she wanted me to find a complete listing of the rules for it. Does anyone have any idea where a complete listing of the rules can be found online?
Brad
at December 3, 2007 17:32 said:
I am currently building an on-line version of this game with a slick AJAX interface that lets play from a standard web browser with your friends. The game will be e-mail turned based, so you'll be notified via e-mail when its your turn. Similar to how warfish.net does their Risk-Clone)

I am working on it in my spare time so I can't give a hard date to when it will be available, but I am hoping to have a playable version available in 6 months.

I would like to get a feel for general interest in the game and collect some feed back on my thoughts about additional add-on features I could throw in to help buy me pizza and beer. My thoughts were I would offer a "Classic" version of the game for free. And for a small yearly fee (under $20), you could gain access to additional playing boards, rule modifications, and join in tournaments, etc.

Feel free to write me if you have any input!

brad@maliaplace.com
Carter
at November 17, 2007 21:55 said:
Dennis is right about the movement my bad. The best thing about this game is that you can add more games to it. i Own 5 of them so the game board is larger and each side has way more men. also you can use the extra castles as lookout towers for your archers. No tower on the section with the castle. Best game ever made.
SlowJustice
at November 17, 2007 19:31 said:
Its been 30 years since Ive played the game. One of the best board games Ive ever played. But finding some one to play against is a chore.
Dennis, the Gamepiler
at November 15, 2007 09:34 said:
The Archer can shoot or move (but not both) up to 3 spaces horizontally, vertically or diagonally but cannot shoot over mountains or castles. It removes the first enemy unit in the line of fire but does not move into its space.
Carter
at November 13, 2007 19:33 said:
I beleive slay just mean that he shoots his bow. Up to three pegs away. He can shoot over your own men...but the first enemy in line is slayed. Also i think he can only shoot then move his alotted movement, not move then shoot. one shot per turn.
Carter
at November 13, 2007 19:28 said:
wow sombody that Loves this game. Its hard to find anybody to even play.
JCK
at November 11, 2007 19:25 said:
need info on how to slay, the instructions don't tell us how. any info please post.
Thanks
---
Comments are disabled while we deal with some database issues. We apologize for the inconvenience