Scotland YardA Compelling Detective GameMilton Bradley - 1985
3 - 6 Players; Ages 10+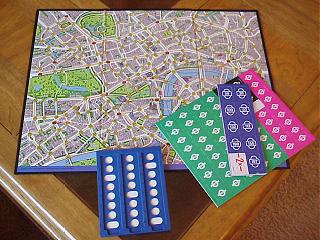 In Scotland Yard the players are detectives trying to capture the elusive "Mr. X" before he can escape from London. The detectives move around on the board, which is a map of London, but Mr. X moves in secret; recording his moves on a pad.
All of the players can only move from one location to another if they have a ticket of the proper type. There are three types of ticket; bus, taxi and underground ("subway" for those of us in the USA). The players have a limited supply of tickets and the detectives must work together in order to trap Mr. X.
The detectives try to close in on Mr. X's location. Every third move the player controlling Mr. X must reveal his location which allows the detectives to slowly narrow their search. If a detective ever lands on the location occupied by Mr. X that player is the winner. If Mr. X manages to elude the detectives until they run out of tickets then the Mr. X player is the winner.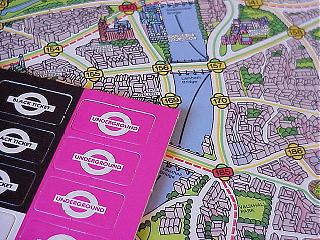 It is not often that you find a game based on the London mass transit system but here it is. This game was originally produced in Germany by Ravensburger and was awarded Europe's Game of the Year award. In the US Games Magazine has consistently named it as one of their top rated games.
The game is very interesting in that the players must work together in order to trap Mr. X. This requires a level of cooperation that is missing from most games. This cooperation combined with the distinctly different gameplay makes this a very good game.
---
12 comments on Scotland Yard:
sachit gambhir
at March 15, 2013 07:01 said:
awesome game

chiru
at March 12, 2013 09:08 said:
super game and also interesting

pavi
at May 15, 2012 09:00 said:
how to use the plastic pad ???????????????
dcosn.a.t
at May 18, 2010 03:55 said:
it very nice ,very beautiful it's easy to play, a good entertainment for me but i don't know how to play this game
fersona
at May 18, 2010 03:48 said:
i don't know how to play this
Agarwal
at June 25, 2009 12:53 said:
are there any updates to the game...?
Kumaravel
at May 11, 2009 03:11 said:
Excellent game. A good entertainer for the whole family.
akshay
at July 18, 2008 10:47 said:
very very nice
Serendipity
at May 13, 2008 09:34 said:
I have played it several times and really like this game.

@UV.. it's not that hard to understand the game, so I think you should buy it :)
UV
at February 6, 2008 03:54 said:
I AM INTERESTED IN THE GAME BUT I HAVE NEVER PLAYED. I HAVE ONLY HEARD THAT IT IS ONE OF THE BEST BOARD GAMES AVAILABLE. NONE OF MY FRIENDS HAVE EVER PLAYED THE SAME. IF I BUY ONE, IS ADEQUATE HELP AVAILABLE WITH THE GAME SO THAT I CAN UNDERSTAND THE GAME ?
bulksalty
at January 15, 2008 14:17 said:
You can sort of see on google maps. It looks pretty accurate to the real thing.

http://maps.google.com/maps?f=q&hl=en&geocode=&time=&date=&ttype=&q=london+&ie=UTF8&ll=51.517396,-0.135698&spn=0.037761,0.079823&z=14&om=1
jimmy
at December 7, 2007 00:12 said:
i have in fact played scotland yard a few times and agree that it is a very fun and unique game but what i'd like to know is how accurately the streets subway lines are portrayed in the map that is used
---
Comments are disabled while we deal with some database issues. We apologize for the inconvenience