Divers DownAn Educational ExperienceUnderwater Ventures - 1986
2 - 6 Players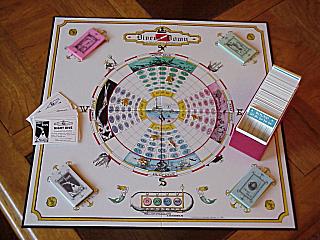 Divers Down is a "knowledge" game based on the sport of SCUBA diving. It is classified as a knowledge game instead of a trivia game because the information in the game is based on the information that SCUBA divers need to know in order to safely participate in the sport.
The object of the game is for the player to complete three of the four possible dives (reef, wreck, deep or night). Each player starts on the "surface". The player is then asked a question from a box of cards (similar to the question cards used in the game Trivial Pursuit). If the player answers correctly they descend to the next depth level. If they miss the question they move sideways towards the ABORT column. If the player ever lands in the ABORT column they must end the dive, return to the surface and start over again.
Once a player reaches the maximum depth for the dive the next question they answer takes them back to the surface. They are then given a "certification card" for that dive and may start another dive. The first player to be "certified" in three of the four dives is the winner.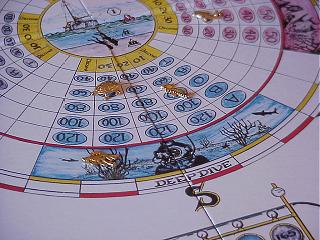 As a diver myself I find this game extremely interesting. It seems obvious to me that this game was developed as a training aid for divers. It is certainly not a mass market trivia game since the questions asked are not something the average non-diver could be expected to know. (For example; "After a dive to 82 feet for 20 minutes, what is the minimum surface interval to allow for a no-decompression dive to 54 feet for 28 minutes?" This is an actual question from the game. (The answer, using the dive tables supplied with the game, is 46 minutes.)) This is an extremely unusual game. It is the only copy of the game I have ever seen and no one I have spoken to has ever even heard of it before. A really interesting game.
---
2 comments on Divers Down:
Johnnie J.
at December 19, 2008 13:26 said:
I have one of these also bought in South Carolina. Anybody interested in buying this game (mine is in excellent unused condition with a bit of fading on the outside box)can contact me: johnniewj@yahoo.com
DCINSC
at December 6, 2008 12:31 said:
I have this game and played it many times. Was was into diving in the 80's and your right it is an excellent learning and fun game for divers. I bought it at a dive shop in Columbia SC.
---
Comments are disabled while we deal with some database issues. We apologize for the inconvenience