Facts in FiveThe Game of Knowledge3M Company - 1967
1-5 Players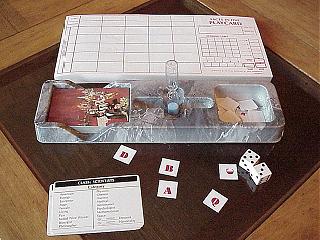 Facts in Five is a trivia game. Five cards are drawn. Each card contains a "class" (such as "Living Celebrated Persons" or "Product Trade names") and a list of "categories" (for the examples above some categories are American, Foreign, Male or Female and Soap, Candy, Wine or Beer). A category is selected for each class and the players note the five classes/categories on their score pads. Then, five letter tiles are drawn and the players note the letters on their pads as well.
A sand timer is then turned over and the players have five minutes to come up with a list of twenty five names or items. For each class/category that was selected they must come up with an example which starts with each of the letters which was chosen. After five minutes are up the score pads are checked and the player receives one point for each valid answer. Another five classes and letters are chosen and another round begins. After a pre-determined number of rounds the player with the highest total is the winner.
This is an interesting variant of a trivia game. It sounds easy but it can be surprisingly difficult to come up with answers, especially when the timer is running. What is even more fun is when the answers are reviewed; some people will come up with the most bizarre answers (which they will then try to defend). This is a good party game.
---
17 comments on Facts in Five:
ROBERT BECKER
at April 17, 2013 15:18 said:
I still have the game but I am missing the timer. everything else is in great condition let me know. I am about to put it and stocks and bonds and Mr president on Ebay. They are in great condition as well
pam1
at November 18, 2012 16:53 said:
Barbara do you still have the game? I'd be interested in purchasing. pam1@comcast.net
Barbara Ebert May 16th 2012
at May 16, 2012 18:47 said:
I have Facts In Five in it's original never opened plastic package. What price should I look for if to sell.??
virginia.educator
at February 29, 2012 22:55 said:
What memories. We played this all the time as a family when I was a child. It's the best.
Karen Weichbrodt
at September 1, 2011 22:37 said:
I own Facts in Five but have run out of the playcards. I
have been searching for years for replacements. Can someone send me a copy? Perhaps it can be scanned and emailed? I would appreciate that.
karenweichbrodt@yahoo.com
Janice
at October 24, 2010 10:17 said:
I have an origional game w/ 3M papers dated 1969. Is this worth anything?
Anthonio Pettit
at December 10, 2008 16:35 said:
I played "Scattergories" for the first time last night, not realizing that it's a totally dumbed down version of Facts in Five. Having worked through esoteric rounds like "European River Tributaries" that start with "D" or wherever, Scattergories was a cake walk. Needless to say, Facts in Five totally prepared me to blow my competition out of the water... Thanks, Facts in Five!
Gary McDonough
at June 14, 2008 18:22 said:
Hi. I just bought Facts in Five on ebay, and the seller told me he is a 3M Bookshelf Games collector and that my game was a complete version. It has 56 cards, four are wild cards, and a complete set of alphabet letters with four blank pieces. I believe you have a complete game. Have fun playing this game, I love it and so does my friends and family.
Donna Scheller
at June 12, 2008 13:24 said:
Does anyone know how many letters and how many cards should be in the original game? I just bought a used set and it contains 56 cards, 4 of which are wild cards and one complete set of alphabet tiles plus 4 blank ones?
Lacey
at April 3, 2008 22:18 said:
Hi,

I just found Facts in Five and Oh-Wah-Ree at a thrift store in 29 Palms, CA. I\'m excited to play them! (My friend and I wanted to find a game to play while camping at Joshua Tree, but ended up being too tired after hiking all day.) Oh-Wah Ree seems complete except for the instructions, which I found on this site. The Factsin5 set has a lot of playcards and score cards. I\'d be happy to make copies and send them to y\'all for a small fee to cover fees/shipping. $3? Let me know. yellmyway@yahoo.com
Kevin
at January 22, 2008 11:56 said:
I was wondering the same thing Jen. The used copy I bought has very few blank score cards left. I doubt there is any place to get new ones...but luckily it's something that could easily be done just using normal paper.
Jen
at January 14, 2008 15:35 said:
Love this game, does anyone know where I can get more score cards? Used them all up within a month.
Kevin
at January 8, 2008 17:38 said:
I just bought this game today from Deseret Industries. Reading these comments have made me excited to try it out.
BW
at January 4, 2008 14:24 said:
I'm always surprised more people do not know of this game. It is great fun for a wide range of ages. It is particularly a good game to include younger members of the family in the fun by teaming them withe adults. We have always 'adjusted' the play a bit depending on the abilities of the players. For instance, if we have children playing we always make sure we pick some easier topics such as 'vegetables' or 'animals' and make sure we use the more common letters to give them a good chance to be involved. Of course, for more competitive play we can be quite ruthless.

Sylvia, we too lost our timer. We just use a cheap 3 minute sand timer (egg timer) and then flip it if we want to go for 6 minutes. Such timers are frequently found in discount store for a modest sum.

And you are right, Trudy. The fun often comes from the skullduggery and pure audacity of some of the more adventurous players.
Sylvia Hicks
at January 3, 2008 21:18 said:
I love this game. It is exciting and exasperating at the same time. I haven't played it in years,till lately. Does any one know where I can get another 5 minute sand timer?
Tony Mercado
at December 28, 2007 14:35 said:
You are absolutely right! Along with "My Word" from Gamut of Games [no longer in existence], two of the best games my family has ever played!
Trudy Bradley
at November 3, 2007 15:46 said:
This is probably one of the best games ever! We have played it as a family for years (whenever it first came out). We sometimes play it as individuals against individuals, couple vs. couples, "mixed couples" like a kid and an adult in order to include the young ones. Whatever the mix it leads to challenges, laughter, skullduggery....you name it. I wish they would re-issue it since it is not "time sensitive"....you can play it anytime, anywhere, with anyone.!
---
Comments are disabled while we deal with some database issues. We apologize for the inconvenience