Dark ShadowsWhitman - 1968
2 - 4 Players; Ages 8 - Adult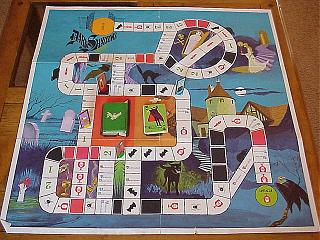 The Dark Shadows game was based on the ABC afternoon drama series of the same name. The series was much like a typical daytime "soap opera" except that the main characters were vampires, werewolves, witches and the like. The show has a cult following which continues to this day.
The game itself is a "race" game in which the object is to get from one end of the board to the other before the other players. At the start of play each player places their tokens on the start square and takes four cards. Each turn the player draws a new card for their hand and either plays or discards one. A player can advance to the next square if they play a card matching the symbol on the square (bats, daggers, spiders and poison goblets). The cards were also color coded (red or black) and had a number (1 or 2) on them. Certain squares are identified only by number or color and any card with the matching value on it can be used.
There are short cuts on the board which can only be used by players holding vampire or "Barnabas" cards. (Barnabas Collins was the name of the main vampire character in the series.) This added a certain amount of strategy to the game. Since the players can only have four cards in their hand at any one time they have to decide if they want to hold onto vampire cards in order to take the short cuts or if they should build up their hand with normal cards and take the longer route.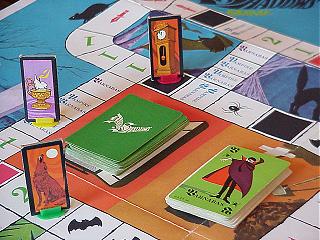 This is a very simple game which is full of flavor. Everything about the game is full of flavor from the cards to the player's markers to the game board itself. I have trouble seeing this game being sold today as a children's game since the board is illustrated with poison bottles, graveyards, bloody hands and the like. A very interesting item.
---
17 comments on Dark Shadows:
BG'S TREASURE
at March 3, 2013 16:41 said:
I have one, if anyone is still looking.
2lostboystoys@gmail.com
Karen
at December 29, 2011 20:00 said:
I loved playing this game as a kid with my brother and sister. None of us has it anymore so it is quite a thrill to see it again on the internet - good memories come alive. I look up a lot of favorite childhood games this way.

Lighthorse_67
at November 24, 2011 19:03 said:
So...it is nice to see some love fore this game. Like many of the other post show, this is THE family board game. This is going to sound odd, but my family plays a Dark Shadows tourny every Thanksgiving, Xmas and Easter (with the set I have had since I was a kid). There are only 2 rules. 1. You must be in PJs. 2. You must talk smack. Good times.
paul2
at November 9, 2010 16:29 said:
anyone willing to part with, or have leads to one for sale?
gloria
at September 23, 2010 22:19 said:
i still have it somewhere in a box i would like to find it and play it with the family again.
Peter
at July 26, 2010 04:35 said:
I had this game when i was about 8 or 9, so that was around 1970. My mum & dad still have the poor beat up old thing. I managed to pick up one on Ebay last year in fair condition. Now my 10 year old daughter & friends love it. I still do too!
Carol
at February 15, 2010 12:29 said:
Where can I buy the 1968 game???? cannon1143@yahoo.com
barnabas
at December 8, 2009 16:32 said:
It was a wolfs head ,you can buy a replica on ebay but very expensive,apparently it was a sword stick as well,or is in one of the novels when he kills someone with it,'the secret of barnabas collins'.
Keith (khufsey@sakmgmt.com)
at January 14, 2009 11:17 said:
My younger sister and I played it for hours. Fantastic board game. A picture also accompanied the game of Barnabus Collins complete with his sheering fangs and notorious cane. Does anyone know what was the top of the cane? A wolf head or was it the head of a bat? Please Email me if you know (khufsey@sakmgmt.com). Thanks!!
maggie
at January 11, 2009 23:14 said:
the game did come with rubber fangs and was a great board game for children!
John
at January 1, 2009 01:25 said:
I had this game. Fun to play.
Anita
at October 26, 2008 07:45 said:
I remember getting this game and having a blast playing it with my friends. My mom got rid of it though when I moved out...I wish we had kept it! It was cool!
Tay
at September 6, 2008 18:26 said:
Didn't this game come with one set of rubber vampire fangs?

I remember the commercial, and then getting the game, but I was five at the time. I recall the kid in the commercial had fangs and I had some too, but I don't know if my parents bought those seperately or if they came with the game.
Tina's Ark dot com
at August 24, 2008 16:47 said:
AHH! I have this game, LOL!!!
Susan
at July 27, 2008 15:12 said:
My brother saved this game from when we were children. His wife had the cards and board lamenated because of alot of use over the years it had become torn. Does anyone know where I can buy a newer version?
Cade
at May 16, 2008 23:27 said:
I remember playing this at my grandmas house..it was awesome and i always loved horror movies and vampires so this was right down my alley as a kid.
Jessica
at January 14, 2008 14:35 said:
My grandma still has this game and she picked it up almost 40 years ago. It is by-far the greatest board game I have ever played and has even become a family tradition at grandma's house!
---
Comments are disabled while we deal with some database issues. We apologize for the inconvenience