AirportThe Airline GameDynamic Games - 1972
2-3 Players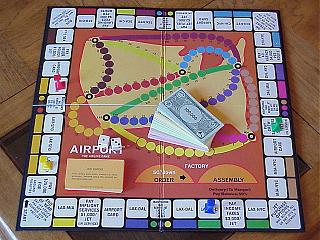 In Airport the goal is to create the most profitable airline. The players start with a fixed number of aircraft which they distribute among the routes on the board. They then take turns rolling dice and moving their counters around the board.
When a player lands on certain squares, they are paid for all aircraft they have on a particular route. The more aircraft there are on a single route the lower the payment received for each aircraft. For example; on the New York to Seattle route one aircraft will make $40,000. If there are 5 aircraft on the route then each aircraft will earn $15,000 (for a total of $75,000). All players receive payment for their aircraft on the route regardless of who landed on the square. Other squares on the board require the players to make certain payment (such as landing fees or ground service charges). The players are also required to perform maintenance on their aircraft. Airport cards can be drawn which give individual players bonuses (such as a mail cargo route) or penalties (such as a strike). The players also have the option of buying or leasing new aircraft or of selling old aircraft back to the bank. The first player to reach a net worth of one million dollars is the winner.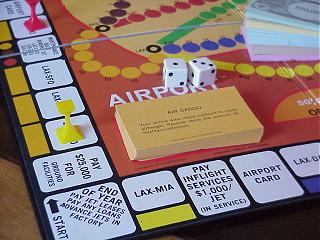 This game is another variant on the venerable Monopoly game. The varying amount of payment based on the number of aircraft on a route is actually somewhat realistic but otherwise it has about as much to do with how airlines are actually run as Monopoly does with actual real estate investment. But the flavor is good and the game does look like it might be interesting to play.
---
19 comments on Airport:
Anonymous
at September 30, 2013 12:03 said:
It's far away from me steven how I can get it :(
Steven
at June 20, 2013 12:04 said:
I have a still in the plastic from the 70's game "airport the airline game" call me if your interested. cash check paypal or credit card. 7142356439 i live in southern california

steve
Anonymous
at June 1, 2013 15:04 said:
Clarenz where you find it
Anonymous
at June 1, 2013 15:03 said:
How can I buy this game
clarenz
at February 24, 2012 06:23 said:
i love this game... :)
Frank
at August 15, 2011 14:51 said:
I bought the game from the guy who bought it in a storage unit. If anyone has a copy of the rules to sell, please e-mail me gamtester@gmail.com
I buy sell and trade anything games.
me
at July 17, 2011 19:07 said:
how much is this game worth:?? I found one in a storage i bought at auction and am doing some research, please let me know the only thing i see missing is the manual
ws
at July 5, 2011 00:30 said:
I also have this game from my childhood--along with the instructions. If you need them, let me know, and I will try to get them to you. In playing this game, you can lease or buy jets for your airline. To win the game, you really need to purchase as many jets as possible--without going bankrupt. Airport is a great game!
Debbie Ames
at March 1, 2011 14:24 said:
Hi!
I have and am willing to sell Airport, The Airline Game if anyone is interested. Though being an ex-airline type I hesitate giving it up, it's pretty cool! : )
Amanda
at February 2, 2011 09:28 said:
We own this game from my husband's childhood...however it doesn't have the instructions with it. Any chance you have those and would be willing to email them to me? If so, please email at amandadart at live dot com. Thank you!
mommy
at March 10, 2010 17:58 said:
i like beans
hjv
at March 10, 2010 17:57 said:
jk
HOLLY
at December 10, 2009 14:33 said:
i want to know were to buy this game please contact me at hollieunruh@hotmail.com
hollie
at December 10, 2009 14:27 said:
were can i buy this game?
Sharon Chang Ai Ling
at October 9, 2009 03:29 said:
where i can buy it from?
Janis
at September 16, 2009 14:22 said:
Where can I buy this game?
jave
at July 26, 2009 00:25 said:
can i play this game
emad
at April 3, 2009 01:18 said:
I Like to AIRPORT GAME CAN YOU GIVE US.
Anonymous
at November 6, 2008 19:50 said:
I love the feeling of Airline Money slipping through my fingers.
---
Comments are disabled while we deal with some database issues. We apologize for the inconvenience