The Undersea World of Jacques CousteauParker Brothers - 1968
2-4 Players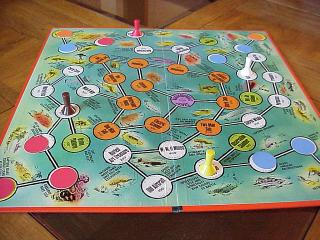 The Undersea World of Jacques Cousteau is a game based on the television show of the same name. The players attempt to do a series of dives related to either Sea Life, Reef Life, Sunken Treasure or Scientific Discovery. As they do, they gain points based on the depth of the dives they complete. The player who completes their dive sequence with the most points wins.
The players advance their tokens along the track and roll dice. If they roll one of the numbers shown in the next space they may attempt the dive there. They do this by drawing a card. If the card shows a successful dive they get the points for the dive. If it shows a problem they must attempt the dive again on the next turn. They can also draw an equipment card which gives them additional points.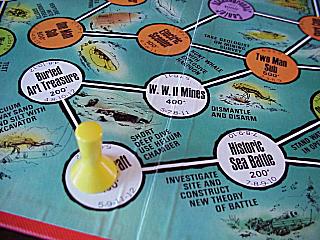 There is really little strategy to this game. The outcome is based mostly on luck in rolling dice and drawing cards. On the other hand, as a diver I find the subject matter and the "dives" represented in the game fascinating. Because of this, this is one of my favorite games in my collection.
---
4 comments on The Undersea World of Jacques Cousteau:
laiba
at July 15, 2012 05:23 said:
i am doing a olphants science awards and i wanted to do a board game about life on reef.
CONRAD JONES
at October 26, 2008 14:27 said:
AS A CHILD I USE TO BE GLUED AT THE TV SCREEN. WHAT A FANTASTIC SERIES.THEY SHOULD REPEAT THEM.
kisame
at May 13, 2008 19:24 said:
Hi.Jaques Cousteau you rock.I wish i could get more informaions about you.Scientists rock when i grow up i am going to be a scientist like you.
carmela
at November 30, 2007 00:56 said:
why cant we play the games comment
---
Comments are disabled while we deal with some database issues. We apologize for the inconvenience