SupremacyThe Game of the SuperpowersSupremacy Games - 1984
2-6 Players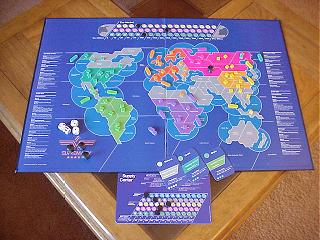 In Supremacy the players represent the superpowers of the world; the United States, the Soviet Union, the League of European Nations, the People's Republic of China, the Confederacy of South America and the Federation of African States. The goal is to conquer the world either through military or economic strength.
Players can build army and naval units. To do so requires resources. There are three types of resources in the game; oil, wheat and minerals. Once the units are built they require a continual input of resources in the form of maintenance. Armies require grain to move and navies require oil. In addition, salaries must be paid for each army and naval unit. Each country on the board is capable of producing certain types of resources. Players can gain access to those resources by capturing the country in question and playing the appropriate resource card. Alternatively, players can buy or sell resources on the global market.
Supremacy is a more detailed version of the classic game Risk. An economic model and naval units have been added as well as such advanced technologies as "L-Stars" (laser defense satellites) and Nuclear Weapons (which come with nifty mushroom cloud markers).
This is a very interesting game with some really nice components. There are a few problems with it; the first player to move can manipulate the market in such a way that they can clean it out of resources before the other players get a chance to react, giving that player a decided advantage at the start of the game. Also, the mushroom cloud markers are just begging out to be used and so most games tend to wind up with everyone losing in a blaze of nuclear annihilation. Still, it can be a fun game to play.
---
22 comments on Supremacy:
Louis
at June 3, 2014 15:34 said:
there is also a aircraft carriers variant from two gus Maximilian S Bachleda and modified by Ted Mantuano.
that is for supremacy .(the game of super powers ) similar to some that i have thought about but different . well writen and clear to read and under stand . there may be others out there so keep looking .
Sincerly
LHS IV
Louis
at June 3, 2014 15:27 said:
the information concerning faiplay games is correct.and as of this date some products are avalable.
have not found godzicons info yet . for all the pieces they may of had avalable for sale.
the official site from the designer of the game (check on wiki pedia) for the link to his site .
good luck to all of you field marshals out there in supremacy land .
Sincerly
LHS IV
Joshua
at October 5, 2012 19:38 said:
Where can I order the complete set of this game with all expansion packs?
Supremacy parts at my booth at Origins game convention
at February 16, 2012 20:09 said:
Alot of parts.Used box sets and 25 unopened Megamaps and mint box sets for sale!!! for sale.
Check outy booth if you love Supremacy.Politically Incorrect Gamez @ Origins in Columbus Ohio May 30- June 3rd 2012.
drnous@aol.com if you have Paypal and need mail order or price list!
Supremacy used copy.Good condition.+ parts and other stuff!
at December 11, 2011 23:30 said:
I have a good used copy complete.
I also have a MINT sealed in shrink wrap copy of the Mega Supremacy rules set for sale.I take Paypal.
drnous#aol.com...email I have some other box sets and extra parts tanks,boomers etc.Sell parts or everything!
Mark
at September 1, 2010 20:20 said:
One of the best games ever produced.
SUPREMACY PARTS AT ORIGINS GAME CONVENTION
at June 2, 2010 14:03 said:
i WILL BE SELLING THOUSANDS OF SUPREMACY GAME PARTS AS WELL AS GAME PARTS FOR MANY OTHER OUT OF PRINT GAMES HUGE SELECTION OF GAMES,GAME PARTS,CULT FILMS AND RPG GAMES OUT OF PRINT CHECK OUT :JOHN ADE ENTERPRISES!JUNE 24-27 IN COLUMBUS OHIO...DRNOUS@AOL.COM
Anonymous
at April 13, 2010 15:28 said:
Really cool article you have here, and it really is funn to play.♪
Roy
at February 20, 2010 11:21 said:
Hi I have within the last 24 hours put 11 items of supremacy onto e-may here are a list of said items:
Supremacy-The game of the Superpowers
Supremacy-Fortuna News Rumours and Acts of God
Supremacy-The Middle Powers Expansion Set
Supremacy-Neutron Bombs Killer Satellites expansion set
Supremacy Boomers Miniatures of War Ballistic Missile s
Supremacy Colonial Legions and Merchant Marine
Supremacy-The Unconventional Forces Expansion Set
Supremacy-Resource Deck Two Expansion set
Supremacy-The High-Tech Edge for Conventional Forces
Supremacy-The High-Tech Edge for Strategic Forces
Some loose Tanks and Boomers I also need to put on e-bay along with Mega Map.
Feel free to take a look and hopefully place some bids.
Thank you for taking the time to read this message. email getroysbooks@aol.com if you have any more queries. Regards Roy

Jason M
at November 15, 2009 16:48 said:
Looking to buy any and all expansion packs for supremacy, in new, or excellent and complete condition, email @ JLee0069@hotmail.com if selling or know where I can buy, Thx.
Jane Zoet
at May 13, 2009 11:36 said:
I have a copy of two expansions (Neutrol Bomb and High Tech Edge for Strategic Forces) -- both are missing the rules! Can anyone out there help me out with a copy? Email me at Zoet@att.net
John
at February 7, 2009 10:33 said:
I am looking for your home rules,suggestions for a new version of Supremacy.If your ideas work you will be listed asa contributor.I will not use everything submitted as we have a large selection of changes already and may have already thought of yours.
Email,
godzicon@aol.com
Metrotek5
at December 19, 2008 23:37 said:
if anyone in the Los Angeles area is interested in playing, feel free to E-mail me at: metrotek5@gmail.com
Robson
at October 2, 2008 10:40 said:
Hi, I'm from Brazil and I have a Brazilian copy of this game, but it's not mint nor is for sale. I live in Rio de Janeiro, and I'm looking for people to play with. My e-mail is robsonwt [@]terra.com.br
Dennis, The Gamepiler
at July 22, 2008 10:49 said:
Lots of information on the game, including copies of the rules and cards and images of the game board and pieces that you can print out to make your own version at http://www.geocities.com/soho/cafe/3709/supremacy/download.htm
Your Regular Joe
at July 18, 2008 22:18 said:
I have one up for grabs if anyone is interested. It's eBay item number 320276404371. I just listed it a few minutes ago. I have it set to a fixed price but I'm taking offers as well. Take a gander.
Marcelo
at July 10, 2008 07:10 said:
Hi, I?m from Brazil and I want to buy a Supremacy board game. Do you know someone who wants to sell it?

Thanks
Joshua
at July 8, 2008 09:44 said:
Luke, I would be interested, I've been wanting this game for a decade.
email me if you still have it available. cyros2 hotmail com
Anonymous
at May 9, 2008 08:47 said:
Looove this game. Problem is most people find it too long and involved (too complicated more likely). Therefore it can be hard to find people to play with. If you can, and you like things like Risk, you'll love it. A+
Luke
at May 6, 2008 21:12 said:
I have a mint condition, still in plastic, spare Supremacy looking for an owner.
Question on piece count.
at April 11, 2008 00:15 said:
I had this game when it came out, and loved playing it all thru high school - but after moving so often I've lost my game (had most of the xpacks too :( ).

I'm buying a used set on ebay, and it's listed as possibly incomplete. I was just curious if anyone knows the original box piece count so when I get it I can see what I'm missing, and either make replacement pieces or buy an additional boxed set and use whatever I have as spares. Any info is greatly appreciated!
William Saunders
at March 9, 2008 19:05 said:
This is an amazing game! i highly suggest it to all!
---
Comments are disabled while we deal with some database issues. We apologize for the inconvenience