Situation 4Parker Brothers' Action Puzzle GameParker Brothers - 1968
2-4 Players - Ages 8 to Adult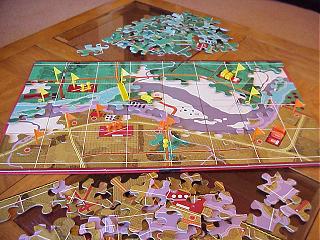 Situation 4 is a puzzle and a game in one. The game consists of two identical puzzles in different shades (one green and one brown). Players start by placing one piece along the edge on their side of the board. They then start building their puzzles as fast as possible with the restriction that every piece they place on the puzzle must connect to one of their pieces which is already on the board.
As they expand their puzzles they will complete certain key facilities. When they do, they can claim the facility by placing one of their flags on the board. Two facilities, the paratroop and tank bases, have special functions. When these facilities are completed the player may place their tanks and paratroopers on the board. Tanks defend territory by preventing the player's opponent from playing a puzzle piece which would connect to the piece the tank is on. Paratroopers allow the player to play a puzzle piece which connects to their opponent's puzzle instead of their own.
Each facility is worth a certain number of points. When the puzzle is completed, the players total up the points for all facilities that are completely in their color and add bonus points for each area of the board they have covered. The player with the highest total is the winner.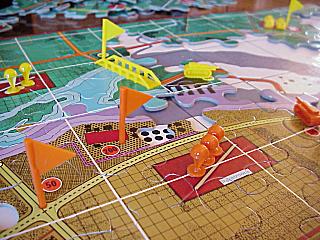 The puzzle which makes up the majority of the game is not difficult as puzzles go but having to assemble it fast brings a new dimension to puzzle building. Plus, there is a strategy element involved; should you build as fast as possible and go for the most territory or should you concentrate on trying to build the special facilities for the additional points? Hand-eye coordination and pattern recognition are a must with this game.
The game did well enough that Parker Brothers released a second game in the series called Situation 7 which was played on a circular board and set in outer space with astronauts, satellites and rockets replacing the paratroops and tanks.
One final comment. Is the woman in the box cover photo not just too excited about playing this game?
---
9 comments on Situation 4:
Janis
at May 7, 2014 22:44 said:
I played this game with my dad years ago. We loved it!
Cindy
at July 30, 2010 00:03 said:
I've had my game for 41 years and dug it out to play with my kids and with no instructions had to be reminded. I do remember it was the only game I could finally beat my brothers at. Those were the days!
Mel
at December 24, 2008 07:52 said:
My dad got this game when he was a little boy. Though the box was in tatters, he kept it, and played it with me when I was growing up (I\'m 21 now). It remains my favorite board game!
Andy
at November 30, 2008 16:12 said:
I have very nice copies of Situation 4 and Situation 7 available. All the pieces are there. Please contact me if you have an interest in making an offer on them. I can be reached at agcourtney@aol.com. Thanks.
TAMMY RAGSDALE
at September 9, 2008 17:12 said:
I HAVE FOUND A SITUATION 4 BOARD GAME IN MY ATTIC THAT IS TAPED UP ON ALL SIDES. I'M NOT SURE IF EVERYTHING IS THERE OR NOT BUT KNOWING THE PEOPLE THAT LIVED IN MY HOUSE BEFORE ME IT IS. I WOULD LIKE TO KNOW IF ANYONE COULD TELL ME HOW MUCH THIS GAME MAY BE WORTH TODAY. MY E-MAIL IS TAMMY@ALLPHASESER.COM.. THANKS
Bryan
at June 17, 2008 18:01 said:
This is the only game I liked growing up. There is no waiting for the other player(s) to take their turn, because both you and the other player(s) are "on" from the moment you start! Very Exciting!

I don't like puzzles, and I don't like games, but I LOVE Situation 4! It kills me that I can't get a new copy, as my stinkin' kids lost puzzle and playing pieces! Do'h!
Dennis, The Gamepiler
at December 21, 2007 10:28 said:
You can find a copy of the rules (in PDF format) at http://www.gamepile.com/gamerules/situation4.pdf
Melissa
at December 19, 2007 13:21 said:
Just got this for my kids in a thrift store, but no instructions included. Thanks for the overview!
Steve
at November 18, 2007 16:34 said:
This was one of my favorite games as I was growing up. Probably sprung it on every friend I had between about ages 8 and 25! Still have it.
---
Comments are disabled while we deal with some database issues. We apologize for the inconvenience