Murder on the Orient Express A Sherlock Holmes Mystery GameIdeal's Famous Mystery Classics Series
2 - 6 Players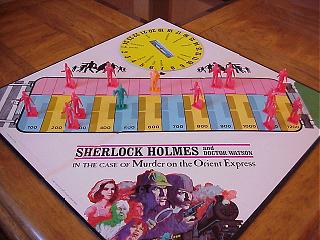 This game takes place on the famous Orient Express. There are 12 spies on the train as well as the detectives Sherlock Holmes and Doctor Watson. The players take turns moving the detectives and the spies around the train and keeping track of their movements. Every 8 turns (8 hours in the game) they check their notes and determine which spies have been killed. A spy is killed if it is ever a) alone in a compartment or corridor square for 1 or more hours, b) a second spy enters the compartment or corridor square and c) the spy is never in the same compartment or square as one of the detectives afterwards. Since the status of a spy is not determined until turn 8 (or 16 or 24) it is possible to move a spy which is already "dead". This spy cannot kill other spies even if it fulfills the conditions above. Since the status of a spy depends entirely on their movement it is important for the players to keep careful notes and to be able to defend their logic to the other players.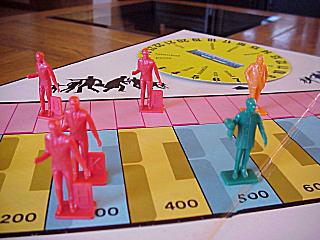 This is a very strange game. It is better described as a logic problem disguised as a game. It certainly requires a good deal of thought to play. The rule book is 14 pages in length; 6 pages of rules, 3 pages showing how to fill out the tracking forms and 5 pages giving an example of one eight turn play sequence. A deceptively complex game.
What is more mysterious about this game is its title. Look at the box cover. It clearly shows Murder on the Orient Express by Sir Arthur Conan Doyle. Of course, the novel Murder on the Orient Express was really written by Agatha Christie and had nothing to do with Sherlock Holmes.
This is only one of the games in Ideal's "Mystery Classics Series". The other three feature Doctor Fu Manchu, Ellery Queen and the real Agatha Christie title And Then There Were None.
Even more interesting are the figures for "Sherlock Holmes" and "Doctor Watson". It is obvious from a casual glance that they look nothing like Holmes and Watson. On closer inspection they are recognizable, but as Dr. No and Auric Goldfinger from the James Bond movies Dr. No and Goldfinger! I think the "mystery" of this game is deeper than it seems. As Holmes would say "The game's afoot!".
---
1 comment on Murder on the Orient Express:
Lyon
at September 1, 2008 11:56 said:
I played this game as a kid and loved it. Are the rules of the game available? Are there copies of this game available for purchase?

Thanks,

lyonminique@yahoo.com
---
Comments are disabled while we deal with some database issues. We apologize for the inconvenience