The Mating GameThe Game That Matches Personalities and Tells It Like It IsNBC At Home Entertainment/Hasbro - 1969
2 or more Players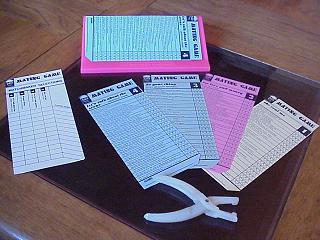 The Mating Game is a personality profile game which is supposed to compare your personality to that of your mate (or any other person) to see how compatible you are with each other.
The Mating Game uses a set of four cards to determine your personality. Each card has questions from one of four categories; "The Real Me", "For Love and Money" (Tastes and Attitudes), "Do Your Thing" (Interest and Activity Preferences) and "Let's Talk About the Scene" (Controversial Opinions). (There are also blank cards included so that players can create their own question cards.) There are 20 questions on each card, each with three possible answers. For example, the first question under "The Real Me" is "I keep records of my expenditures; a)Yes, b)No, c)Sometimes". There are a, b and c columns on each card. Players use special hole punches to punch out the column corresponding to their answer.
When all players have punched their answers the cards are placed in pairs in the "reader" and the number of common answers are noted by checking to see where the punched holes overlap. The players with the most overlaps are considered to be the most compatible.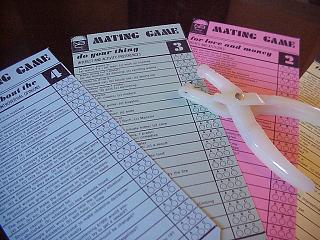 As with Interpretation of Dreams this isn't so much a game as it is an exercise in pop psychology. While it may produce some interesting reactions as a party game I can't see any group wanting to play with this one more than once.
More interesting to me is how the questions on the cards reflect the ways in which society has (and hasn't) changed since 1969. A few sample questions:
Women are too emotional to make objective decisions?
a)yes, b)no, c)usually
If a man can support two women comfortably, should he?
a)yes, b)no, c)if both women agree
A married woman with children should work...
a)only after the children are grown, b)occasionally, c)never
Somehow I can't see these questions getting into a game today.
There are also purely dated questions like "Should the voting age be lowered to 18?" or "At what income can two people live comfortably?" (The answers here are $7,500, $15,000 or $25,000).
An interesting item, but much more from a social history point of view than as a game.
---
Comments are disabled while we deal with some database issues. We apologize for the inconvenience