Thinking Man's GolfMinnesota Mining and Manufacturing Company - 1966
1-6 Players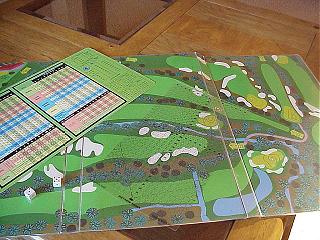 Thinking Man's Golf is a golfing simulation which takes place on a fantasy course made up of holes from golf courses around the country. (For example; the 14th hole from the Cherry Hills Country Club in Denver and the 12th hole from the Augusta National Golf Club in Augusta, Georgia.)
The rules are the same as for golf. On each turn, the player selects the club they are planning to use and places a plastic overlay on the board to indicate where they are aiming the ball. They then roll a die and consult the chart for the club they are using. Taking into account the result from the chart and the effect of the wind they use the overlay to determine where the ball will land. This point is marked with a grease pencil and play proceeds from that location.
When the player gets to the green they consult a separate chart which tells how many strokes it takes them to sink the putt from their distance from the hole on the green. Play then proceeds to the next hole. After playing all 18 holes the player with the best score is the winner.
For the record, the simulated course here is a par 72 and has a total length of 7,207 yards.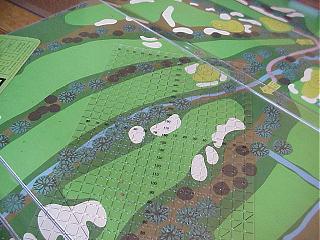 I am not a golfer. I tried golfing once; I shot an 87. (What I don't tell people is that that was on only the first 9 holes.) Still, I really like this game. It seems to be fairly realistic; at least realistic enough that I can follow what is going on in a golf tournament or when friends who are golfers start discussing their game.
This was also the first 3M Sports Game I ever played. As with most of the games in the series it is of high quality and is really fun to play.
---
3 comments on Thinking Man's Golf:
matt smith
at June 5, 2010 04:09 said:
i found thinking mans golf at a goodwill store in ohio for $2. it is now one of my favorite games and its the first time ive ever seen it,(im 22). someone needs to come out with and updated version. with complete courses like, wolf creek, bc ill nvr get to golf there in real life. lol

David Gardner
at March 15, 2010 15:09 said:
Where can I buy Thinking Man's Golf, the game I played as a kid with my dad??
email is dgardner62@ameritech.net

thanks!
Jim Sander
at January 21, 2008 19:18 said:
I am looking for the yardage overlay for "Thinking Man's Golf." I obviously have the game but apparentely have miss-placed the overlay. If anyone has one they are willing to part with, I would be willing to buy it.

My e-mail address is jjjsander@aol.com

Contact me if you have any information.

Thank you,

Jim Sander
---
Comments are disabled while we deal with some database issues. We apologize for the inconvenience