Thinking Man's Football3M Company - 1966
2 Players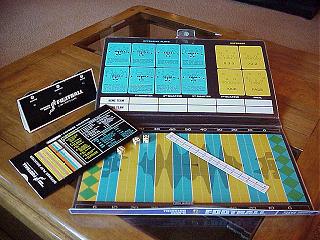 Thinking Man's Football is a football simulation game. Players take the part of the quarterback or defensive coordinator for a football team and attempt to score the most points.
The game follows the rules of football. On each down, the offensive player selects the play their team will run from the list available (Pitchout, Off Tackle, Counterplay, Sneak, Forward Pass, Screen Pass, Lateral Pass, Punt or Place Kick). The defensive player then selects a formation (7-2-2, 5-3-3, Pass or Kick). The defensive player also selects if they will defend to the left, right or center. Both players note their choices but keep them secret from each other.
The offensive player then announces if they will run their play to the left, right or center. Both players reveal their plays and consult a slide-rule style calculator. By using the calculator and rolling dice they determine the results of the play. Play then continues with the next down. Scoring is as in normal football and the player with the highest score after four quarters is the winner.
Like all of the 3M Sports Games this one seems to be quite realistic. The results of the play calculator were supposedly determined by doing statistical analysis of an actual football season (but there is no mention as to what teams were used or what season). The game can be quite fun for those of us who never wanted to try the real game.
---
3 comments on Thinking Man's Football:
Jake
at January 6, 2014 19:27 said:
This was my favorite game as a kid, and a game I can still enjoy as an adult. I agree, best game ever
Bob Hakken
at January 2, 2010 13:33 said:
My brother and I played this game back in the late 60's and loved it. I'd like to know how many grease pencils we went through! Best game ever!
Tony Cole
at October 11, 2008 14:47 said:
I absolutely loved this game as a kid. I remember it not only being very entertaining but quite realistic (but then again, I was only 7 or 8 years old when I think I played). I also fondly remember the Big League Baseball game that 3M had out around the same time. Both games were fun & easy to play!
---
Comments are disabled while we deal with some database issues. We apologize for the inconvenience