NabA Calculating Pyramid Game3M Company - 1974
2 Players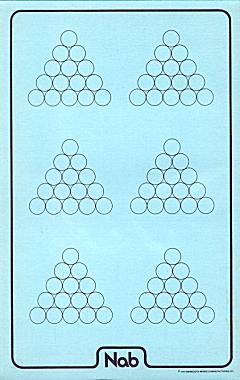 Nab consists of 15 circles arranged in a triangular pattern. The players take turns drawing lines through from 1 to 5 circles. All of the circles in the line must be in a straight line with each other and cannot have been marked through previously. The player who is forced to draw the line through the last unmarked circle loses.
Nab is simply a paper version of the game Nim, which is usually played with pennies or other coins. The geometric pattern adds a bit of difficulty to the game, but not much. Nim has an optimal solution which will assure a win for whoever goes first and there is probably one for this game as well. It takes only a few minutes to play but probably will not hold anyone's interest for more than a game or two.
---
1 comment on Nab:
Craig
at April 4, 2009 10:53 said:
this game is soooooo much fun and intense
---
Comments are disabled while we deal with some database issues. We apologize for the inconvenience