Tryce An Intriguing Game of Words & Runs & Groups3M Company - 1970
3-6 Players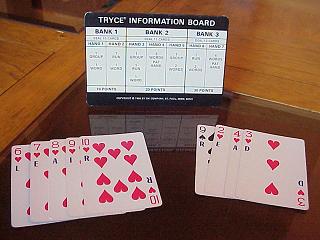 Tryce is a variation of Rummy. The game consists of two standard card decks including the jokers from each deck. In addition to the standard numbers and suits the cards also contain a letter of the alphabet.
The players are attempting to create "runs", "groups" and "words". A Run is four or more cards in the same suit in sequence. A Group is three or more of a kind. A Word is formed using the letters on the cards and can be any non-proper word found in a standard dictionary. A game consists of seven rounds, and in each round a player must form a specific number of Runs, Groups and Words.
Each player is dealt a number of cards, the exact number of which varies depending on the round in play. Each turn the player draws the top card from the deck or from the discard pile then plays as many cards as possible (either by forming new Runs, Groups or Words or by adding them onto cards which have already been played, either by themselves or by other players). Finally, they discard one of their remaining cards. The round ends when one player manages to empty their hand.
Players gain points by forming the number of Groups, Runs and Words specified for the round and for the cards in the melds they created. They lose points for cards left in their hand when the round ends. The player with the highest total after all seven rounds is the winner.
An interesting variation of Rummy, Tryce adds an element of strategy to that game. Cards can be played into other player's melds, but doing so gives points to that player. On the other hand, keeping the card in your hand may result in losing that many points at the end of the round. The requirement of forming words adds to the challenge. A fairly good game and an interesting change of pace.
---
13 comments on Tryce:
Lisa
at June 15, 2013 14:01 said:
Have the game, never used complete with instructions
Anyone interested in purchasing?
usefo_rjunk@hotmail.com
Patty
at December 14, 2012 03:16 said:
I would like to get the card game Tryce. Thanks,

pjuddin@yahoo.com
Pam
at July 2, 2012 06:05 said:
I also have a Tryce game never used.
Any one else still looking? pcoleweyer@hotmail.com
dunstond13@yahoo.com
at March 17, 2012 18:03 said:
would love to find the card game tryce....
or if someone is willing would love to be able to copy the letters that go with the cards.... and the rules...
have played the game a couple of times and it is fun, but can't find it anywhere.... thanks...d
Mary
at December 5, 2011 09:02 said:
I would love to find a copy of this game. Nucci48@aol.com
robinb36@yahoo.com
at September 7, 2011 20:27 said:
Hi Robin,
Do you still have the game of tryce? My daughter just told me about it this weekend and I am trying to find it.
Sincerely,
Kateri Molnar
katerimolnar@nc.rr.com
Robin
at January 3, 2011 22:17 said:
I have the TRYCE game it is in the original orange TRYCE case, it comes with the official rules, the information board, and the original cards are still in the wrapping- never opened If anyone is interested make me an offer.

robinb36@yahoo.com
Ken
at July 3, 2010 22:57 said:
I have the chart in the rule book. Is there any way you could tell me what letters are on these cards (my kids lost nearly have the deck). So for example I know there are supposed to be 8 cards with "A"s on them, but I only have 6 cards with a's and need to find which other two cards get a's, I know there should be 2 "F's" but I don't have any of them, so don't know which cards they should go on, I don't have any M's Y's or B's either. In order to correctly replace the missing cards, I need to know what letters go on which cards. I made a grid that shows which cards and letters I have Is there any way you could let me know how to fill in the missing letters. The question marks below show the cards and letters I'm missing:

Spades
K-h-?
Q-?
J-a-?
10-o-w
9-e-r
8-t-?
7-q-n
6-u-?
5-o-?
4-p-?
3-h-?
2-n-?
A-z-?

Diamonds
K-o-?
Q-c-?
J-e-?
10-?-?
9-n-?
8-l-?
7-w-e
6-i-?
5-?-?
4-t-y
3-i-?
2-?-?
A-?-?

Hearts
K-e-?
Q-t-?
J-u-?
10-r-?
9-i-?
8-a-?
7-e-?
6-x-l
5-n-?
4-h-a
3-d-?
2-j-e
A-o-?

Clubs
K-s-?
Q-o-?
J-g-?
10-a-?
9-h-?
8-p-?
7-r-?
6-j-?
5-t-?
4-o-s
3-z-?
2-i-?
A-n-e


Thanks so much for your help :-)

Ken
Ria
at February 26, 2010 15:46 said:
My husband and I played Tryce when we were first married (40 years ago). I'd like information on how to buy this game.
Please contact me:rjlejeune@sbcglobal.net
DIANE
at September 10, 2008 10:46 said:
I WOULD LIKE A GAME OF TRYCE. IM IN ARIZONA.WHERE CAN I GET A GAME OR SEND FOR ONE.
Dieter
at April 28, 2008 18:50 said:
Hello, would it be possible to get a copy of the the information board
I have game but it is missing the information board, would appreciate and help,
can contact me at
dfr60@msn.com

April 27, 2008
Dennis, The Gamepiler
at October 23, 2007 09:30 said:
I do not have any for sale myself, but you can check the FAQs and Links links in the left sidebar for a list of places where you can find older games on-line.
Ed @ edonnas@comcast.net
at October 22, 2007 15:59 said:
Where can I get a copy of this game
---
Comments are disabled while we deal with some database issues. We apologize for the inconvenience