Regatta 3M Company - 1968
2-6 Players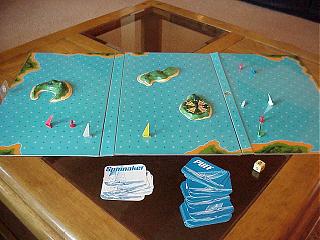 Regatta is a game of yacht racing. Each player controls a single yacht in the race and must use proper sailing techniques in order to win.
The game is quite simple but seems to be very accurate. The yachts behave properly with regards to the wind. They have to tack to go into the wind and make their best speed while broad reaching (sailing somewhere between the direction of the wind and at right angles to the wind). Speed can be increased by raising spinnakers but maneuverability is decreased. When one yacht blocks the wind from another the second yacht loses speed.
The players maneuver their yachts around the course (which is marked out by the islands and buoys) by keeping an eye on the wind and their opponents. The first player to complete the course is the winner.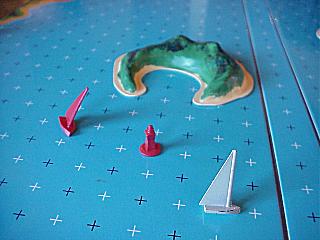 I have never tried sailing but I feel that I could at least follow what is going on after playing this game. It seems to be quite accurate and everything seems to behave logically and realistically. The components of the game are quite nice, the yachts are metal (and tilt to indicate what maneuvers they are attempting) as are the buoys which mark the course and the committee boat. There are also three plastic islands which can be placed on the board to provide additional obstacles for the yachts to sail around. This is a very well designed game.
---
12 comments on Regatta:
Tim
at May 8, 2014 22:53 said:
ray, the die is labeled S (green), S (red), 1, 2, 2, 3.
ray ; adioscoaster@yahoo.com
at March 24, 2014 22:08 said:
I need the special game die for "regatta" sailing board game 1968-1970 era, by 3m sports. if not available , will someone please tell me what is on the die ? after researching = 1,2,3, green "s", red "s"......what's on the last flat ? thanks for your help.
Baron McCausland
at July 11, 2012 15:50 said:
LOVE THIS GAME!!! This is one of the lesser-known and very well executed 3M Games.

We used to play this all my boarding school chums, all of whom were also sailors, so we had a BLAST with this game!
Brendan
at November 16, 2011 13:25 said:
At lest 10 years ago now I designed and built a yacht racing game, but never developed it further than my own personal copy. I was intrigued to discover that the game Yacht Race was nearly identical in board design,grid layout and pick up cards. Does anyone know where I could get a copy of the Rules for Yacht Race as I would love to make a more detailed comparison
ludo
at September 7, 2011 10:16 said:
i think it's the best game i've ever played
it's easy in the rules but extremely realistic
it seemed to hear the wave sound ;-)


OldeTar
at November 9, 2009 19:32 said:
I found one at a rummage sale. It was missing 1 buoy & 1 yacht.
Once you have the rules it is really quite easy to make a game.
Ali
at June 11, 2009 15:45 said:
I'm a sailing instructor and I would love to get Regatta for my kids. I have been looking and looking forever!

Please e-mail me

alisurf@aol.com
n.foster
at July 22, 2008 17:24 said:
they have a few for sale on ebay
Ann B
at June 24, 2008 01:32 said:
My family had this game and it was great. I\\\'d love to have it again if anyone has one in good condition (all parts intact) to sell. - Ann B
ann@apical.com.au
Louis couture Jr.
at May 24, 2008 18:32 said:
I have a Regatta board game in perfect condition never been played.I would like to know what its worth.It was purchased in 1969.Does any one know THANKS. lou2mo@aol.com
Dennis, The Gamepiler
at January 23, 2008 07:55 said:
Sam, you can find a copy of the rules (in PDF format) at http://www.1stingames.com/rules/regatta/19703m/index.pdf
Sam
at January 21, 2008 19:51 said:
I got out my old game to play ( after a decade or so of inactivity) with a gathering of "Pelican" class sailors and was dismayed to find that my directions and rules were missing. I would very much appreciate obaining a copy from someone.

Sam

s.throm@comcast.net
---
Comments are disabled while we deal with some database issues. We apologize for the inconvenience