TwixtThe Strategy Game of Barriers3M Company - 1963
2 Players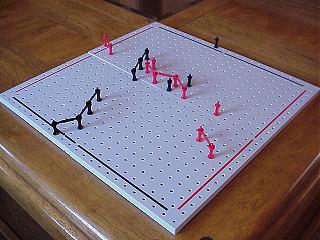 Twixt is a three dimensional version of an old pen and paper game. The object of the game is to build an uninterrupted "bridge" from one end of the board to the other. The players do this by alternately placing "pegs" on the board. If a player has placed a peg in such a position that it can be connected to another peg, they can place a "link" connecting the pegs. The restriction is that links cannot cross each other, so a player can place pegs and links in such a manner that they block their opponents links. The first player to created an uninterrupted path from one side of the board to the other is the winner.
One tricky aspect to placing pegs and links is that the links will not connect if the pegs are placed in line with each other. The pegs must be placed on a one by two diagonal. Pegs can be placed in such a way that they can connect with up to eight other pegs.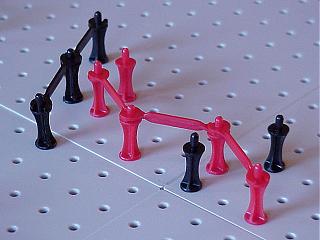 Twixt best fits the category of abstract strategy game. I have seen this game played with pen and paper and all this version does is add the nifty three dimensional components. On the other hand the game does look very interesting visually.
The game requires thinking several turns ahead in order to succeed. If you narrow your focus too much you will almost certainly find yourself outflanked by your opponent.
While not wildly original Twixt is still an interesting member of the 3M library.
Originally, as part of my continuing analysis of box art, I said that I had no idea why the box art showed soldiers in combat gear advancing up a hill in the background. A reader has informed me that this is because the game can be thought of as trying to maintain a supply line while preventing that line from being cut by your opponent.
---
26 comments on Twixt:
tsyokawe
at May 30, 2014 13:30 said:
A wonderful game that you can play with your youngest children. My daughter was playing this at 4, and doing very well. She was actually competition by the time she was 6.

p.s. I see the spammer hit this webpage, too. I'm surprised his posts are still up.
Dble T
at July 12, 2013 13:35 said:
Online Twixt gaming sites:
http://www.littlegolem.net/jsp/index.jsp
http://twixtlive.com/ActiveGames.aspx

Fun!


Fitzhugh
at January 22, 2013 22:54 said:
I am looking at a used, later-version (1976) set. How many pegs and bridges should it have?
Dble T
at August 14, 2012 19:57 said:
I have the instructions for Twixt and Double(s) Twixt so if anybody would like a copy via a PDF file just email me doubledip22@hotmail.com
twixter
at June 4, 2012 17:33 said:
I am a total Twixt fanatic. I have flown to England thrice to win tournaments there. My license plate is TWIXT. Heh I don't know why the box art has soldiers, I once made a joke about supply lines, but why would two armies have intersecting supply lines instead of just fighting each other? Despite this, it's a great game if you like lots of tactics and getting in your opponent's face. http://en.wikipedia.org/wiki/Twixt
dave
at February 12, 2012 12:31 said:
i played years ago djmartisan@comcast.net if u want to play
Brenda february 2012
at February 4, 2012 22:07 said:
The above two games are 1962
Brenda February 4, 2012
at February 4, 2012 22:04 said:
I have two , one is in a grey Box ,3m bookshelf games , Minnisotamining & manufacturing Co. complete with rules, burgandy box shows wear also complete with rules. I do have a question? How many pegs should there be with the game? i have a different counton them? Thank you and Yes FOR SALE!
Thomas
at March 2, 2011 19:31 said:
I play this game.
aspiezer@yahoo.com
at January 1, 2011 14:10 said:
I have one. Complete in original box (which shows wear but is not ripped). Email me if interested.
Rick Cecka
at December 25, 2010 22:04 said:
I absolutely love this game.I would be interested in buying the Twixt game from someone who would like to sell it
Racecka@yahoo.com
Jim Bowman
at September 13, 2010 19:17 said:
I bought the game in 1972 and still have it today. In fact, I took it to a recent cookout with friends family and it was still a big hit. It's easy to learn the basics but sticking to a strategy is the key to success. My supply of pegs and links need to be replenished and if anyone has a suggestion please let me know. Feel free to email me at gmbo@sbcglobal.net
David Spicer
at August 25, 2010 16:11 said:
I would like to buy a twix book shelf game if you know where I can find one im at mrspicer43@yahoo.com
Kim H
at June 26, 2010 17:32 said:
I too just bought this board game at a yard sale. Only paid a $1. It appears to have everything but of course the most important thing, THE INSTRUCTIONS. If anyone can send me a copy of their's I would really appriciate it. FYI, I did find a website with strategy techniques but I think it would really help to have the instructions. Send to khooper70@hotmail.com
Mark
at May 12, 2010 19:01 said:
I used to love playing this game. When I was in high school, our photo introduced us to it. Man, he was hard to beat. I am going to have to buy this for the game night we have.
Game Fanatic
at February 9, 2010 22:52 said:
There is one difference between the pen & paper version and Twixt: for the pen & paper game, a player may make a connection across one of their own lines but not across the lines of the other player.
aj
at January 14, 2010 12:12 said:
I LOVE this game! I grew up with it, and my parents still have the original bookshelf edition that my mom bought back in the 60's when it first came out. It is a timeless game.....my parents played it, my brothers, friends and I played it, now my nieces, nephews, and my children play it.
peter
at December 26, 2009 23:40 said:
you can play it online. links change, so just google it.
Scotty
at September 28, 2009 14:54 said:
Is there on online electronic version of this game yet?
Duane
at July 19, 2009 00:48 said:
One of the best games ever. I actually played a draw game once believe it or not.
Nick
at June 23, 2009 11:16 said:
I just happen to have found my original version of twixt it's over twenty years old my parents bought it and it's in perfect condition exept for the fact I lost the instuctions
genterbe@embarqmail.com
at February 3, 2009 20:56 said:
We just purchased the TWIXT game from e-bay. However, the instructions were not in the game. Can you possibly send me the instructions?

Thanks
alt
at January 2, 2009 19:30 said:
I grew up with this game and it still remains timeless today as I share it with others.
Aramis
at December 5, 2008 10:16 said:
I have my parent's copy (not that they'd play it anymore) in my kitchen. Exquisite game, beautifully rendered by 3m.
George Schmidt
at November 16, 2008 18:13 said:
This is a fabulous game. The rules are simple, but the strategy can get quite complex. We used to play this for hours at school when I was a kid. It's too bad that it's no longer available. I'm sure our old game was thrown out long ago.
Chris
at October 19, 2008 01:05 said:
This is one of the best games ever. The game can be taught in about 3 minutes, but it takes a long time to master. I have become a semi-expert.

It\'s a bit like the old game \"Bridg-it\". However, Bridg-it was eventually \"solved\". Not so with Twixt.

I\'ve brought the game outside on camping trips. If the wind kicks up, no problems.
---
Comments are disabled while we deal with some database issues. We apologize for the inconvenience