Stocks and BondsThe Game of Investments3M Company - 1964
2-8 Players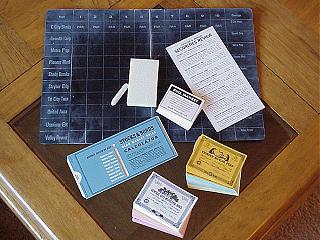 Stocks and Bonds is another of the 3M business simulations. In this game the players are given an initial stake of $10,000 which they then invest in a series of 10 stocks and bonds.
On each turn the players first collect any dividends and interest from the previous year. They then determine if this year will be a "bull" or a "bear" market and determine the current market price of all stocks using a special slide-rule style calculator. The players then buy and sell stocks for the year. The game lasts for 10 years (turns) and the player with the highest net worth at the end of that time is the winner.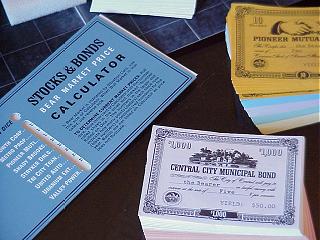 This game does a very good job of simulating the effect of the stock market. While I wouldn't use it to gain investment advice it does give a good feel of how stocks behave.
The game also has one of the more interesting components I have seen. Instead of a plastic board and grease pencil, this game uses an actual chalkboard and piece of chalk for tracking stocks. The chalkboard was replaced in later editions but it is one of the more unusual game components.
---
20 comments on Stocks and Bonds:
Hails
at June 25, 2013 17:59 said:
I have a brand new and never played stocks and bond game Looking to sell. It has all the pieces including the chalk and all. If anyone is interested you can email me at wunschhaileym@comcast.net
Lory Lindsey
at February 23, 2013 13:41 said:
Jerry Martin make this game and alot more. They are by Ramco. Need parts Call Jerry at 1-602-803-0289
Darrel J
at May 8, 2012 09:08 said:
PF Teacher,
I was just on the site I'm linking to you.

boardgamegeek.com/boardgame/1590/stocks-bonds

It has links to this game currently for sale on ebay, as well as those for sale internationally. It's also available on Amazon.com.
I received Stocks & Bonds in 1972 as a high school grad gift, looked it over (actually several times over the following 10 years), but never had the patience to figure out how to play it... A.D.D. hadn't been "discovered" yet in my neighborhood!
I was just going through boxes of my old "things" -- my wife calls junk -- this morning, came upon the game, and googled it! Quite pleased to find it's still en vogue in some circles!
Good luck, PF Teacher.
PF Teacher
at May 1, 2012 11:21 said:
I am teaching personal finance at my school. I remember playing stocks and bonds as a kid and loving it! I want to do something like this with my students. I would do just a simple stock market simulator but all the ones I see are in real time instead of a simulation over years done in less than an hour. Does anyone have any ideas where I might find something like this?
Stock Tips
at June 5, 2011 21:38 said:
I absolutely adore reading your blog posts, the variety of writing is smashing.This blog as usual was educational, I have had to bookmark your site and subscribe to your feed in ifeed. Your theme looks lovely.Thanks for sharing.
Regards
Stock Tips

ohgthanx@yahoo.com
at May 18, 2011 16:45 said:
I understand that 3M also put out three additional stock market price calculators which players were to mail in for. By the time I found out, when 3M still had the game, they sold out.

If I have to, I'll buy them, or if someone would simply scan and send me the tables of the three calculator sheets to make my game complete--or if you would, add this to your website. I'm certain that everyone would appreciate it greatly !!

I have, all for keeps, one of the origional '64 games which I bought for myself with my B-day money at the age of 12, with great thanx to my wonderful Grandmother.

I had the luck of buying another at a yard sale (improved edition) years ago, and then another, under the name of "Stock Market Guru" (oh, yuck!) when Avalon Hill had it. I found this one, the best version (with great game rule variations,) except for the re-name, at a game store, since closed down.

polock41
at June 1, 2010 04:21 said:
Where can I get the score sheets?? I did not keep the last one(to copy) now I cannot find any.
Tim F
at April 29, 2010 23:58 said:
Kim... google "stock and bonds 3m games" and you will see places to get it. There are a few brand new ones out there but they want a lot of money for them. You might be better getting a used one. Good luck!
Kim Davies
at March 8, 2010 14:26 said:
We have Stocks & Bonds and love it and have used it so much that the board you write prices on has all but worn out. Does anybody know where i can buy a new one from. Regards Kim Davies
Mark Robinson
at February 26, 2010 16:41 said:
jenny on ebay they go for 10 for a used one up to 140 for a new one. i think it is priceless though. it made me want to become a stock broker. now i am going to use it to teach my kids.
Mark Jaynes
at January 20, 2010 17:35 said:
I have the Stocks & Bonds game I used to play with my father. He gave it to me but when I tried to play with my son I realized the calculator insert was missing. Does anyone know where I can get a copy of the insert or the insert itself. If so please send me the info. My email address is MSJAY@ZITOMEDIA.NET. Thanks.
Jenny Lynn
at January 17, 2010 11:18 said:
Does anyone know what the value of this game is currently? I was going through stuff and found this game along with a game called Stocks. I was just curious about them. Thanks!
Shelly
at January 10, 2010 14:18 said:
I have an UNOPENED copy of the 1964 Stocks and Bonds board game - if interested in purchasing it please reach out to me at shello9@hotmail.com and let me know your offer of purchase Thanks
Dennis
at January 5, 2010 13:56 said:
Here's a link to the rules for Stocks and Bonds

http://www.1stingames.com/rules/3mstocksbonds/rules.htm
Steve
at January 1, 2010 23:01 said:
Same here. Need rules.

Steve
Carol
at August 9, 2009 21:20 said:
I'm also looking for a copy of the rules. I also just took the game out after 25 years or so, and can't remember how to play it. (Rules are missing.) If anyone knows where I can get a copy of the rules, I'd appreciate it.

Thanks,

Carol

carollaw@sonic.net
Janetmcglamery@aol.com
at October 29, 2008 16:06 said:
We have a number of the 3M board games that I would like to sell. Will inventory them to get all of the names. Most of them have not been opened.
Let me know if anyone is interested.
These are the ones I have:
Image - in a can
Big & Bluff - in a can
Stocks & Bonds
Oh Wah Ree
Twixt - have 2
Facts in Five
Mr. President
Jumpin
Go
Challenge Bridge
Acquire
Chess
Greg
at October 16, 2008 13:43 said:
Do either of you have a copy of the rules which you would be willing to copy and e-mail to me at indhra @ yahoo . com?

I got my copy out after more than ten years and alas there are no rules anymore.
Wayne
at July 30, 2008 15:30 said:
There are 36 cards in this game, I have played it for many years good family game.
Mo
at June 14, 2008 17:17 said:
I just acquired this game on ebay but I'm not sure if I have all the cards. How many are supposed to be in the game?
---
Comments are disabled while we deal with some database issues. We apologize for the inconvenience