QuintoFascinating Game of Numbers 3M Company - 1968
2-4 Players
Quinto is almost exactly like Scrabble except using numbers instead of letters. Like Scrabble the players take turns placing tiles on a board. Except here, instead of trying to spell words, they are trying to play a sequence of tiles such that the total of the numbers on the tiles is a multiple of five. For example; 4-1-6-4 is valid, 4-1-6-6 is not.
Each player starts with five tiles. They then take turns placing tiles on the board in such a way that the tiles a) connect to tiles already on the board and b) total up to a multiple of five. Sequences of tiles can be no more than five tiles in length. The player's score for a tile sequence is the total of the tiles in the sequence. When a player has played tiles they draw new tiles to fill the total in their hand back up to five. Play continues until no more tiles can be played legally at which point the player with the highest total wins.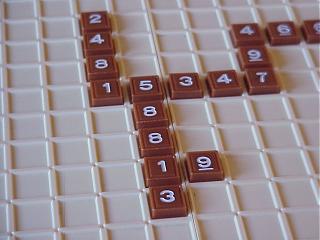 This is an interesting variant but one that would probably get old fairly quickly. In Scrabble there are always new words to spell while here there is just that continual adding up to a multiple of five. There are variants in the game for play to multiples of other numbers (like seven) but they don't really do anything to enhance play, they just change it. Overall this is not one of the better games in the lineup.
---
31 comments on Quinto:
VALENT
at November 28, 2012 10:40 said:
I have a complete 1964 edition for sale. VALESC@CONSOLIDATED.NET
Olea S.
at September 11, 2012 00:11 said:
I love this game. i have a old copy with a board that is broken. I wish I had someone to play this game with. My brother and I used to play this all day.. LOVE It/
ForeverAlive
at August 18, 2012 15:40 said:
Regarding complete tile set: Quinto game 1964 ? 3M has the following tile count(s):

1 Game Board and 1 Score pad

6 - #1 Tiles
6 - #2 Tiles
7 - #3 Tiles
10 - #4 Tiles
6 - #5 Tiles
10 - #6 Tiles
14 - #7 Tiles
12 - #8 Tiles
12 - #9 Tiles
7 - #0 Tiles
KalliAlexandra
at August 18, 2012 15:29 said:
Regarding how many tiles in a complete game-- Here is info I found online regarding the 1968 version with plastic tiles and other components (including red tiles)

12 x 18 folding board

BROWN TILES:
0 - 7 tiles
1 - 6 tiles
2 - 6 tiles
3 - 7 tiles
4 - 10 tiles
5 - 6 tiles
6 - 10 tiles
7 - 14 tiles
8 - 12 tiles
9 - 12 tiles

RED 'MUTILES':
5, 6, 7, 8, and 9 - one each

CeCe
at August 18, 2012 15:21 said:
Again, please someone answer how many tiles are in this game? Need to know if I got a game with the correct number of tiles!
jacinto Ortiz
at April 10, 2012 19:31 said:
I used to sell this game here when i was working with the 3m co in Puerto Rico i would sell it to wholesalers Metropolitan area that was my area to serve. I still have one game from that time i am talking in 1968 or 69 and is in perfect conditions i still use it. with friends. nice game to have wish they will bring it back i wonder if they still make it.? any one knows?
jacqueje@verizon.net
at November 2, 2011 23:53 said:
Many years ago (the 1970's) I had this game, and enjoyed playing it with friends. When I became a VISTA volunteer for an inner-city alternative school (1st through 8th grades) I gave it to the math teacher who worked with the older classes. I've always remembered it except after so many years I've found some of my memories are not quite accurate. This website is great because it confirms my memory!! Even though I'm at the point now, as are many of my friends, of "getting rid of things" so we can move to a smaller place (and spare our families the chore of going through everything we leave behind) I am tempted to get another copy of this game. Will look at eBay and think about it!!
Tom
at November 1, 2011 13:36 said:
How many number tiles should be in a complete game?
david
at October 21, 2011 18:43 said:
wow, didn't even realize there was a following for this. My mom left our copy sitting beside the car on vacation, we left without it, it had 30 years of score of our family on the inside cover. wish i could find her another copy, thanks to everyone here, i should be able to. d_michalowicz@yahoo.com
Claire Petuck
at October 19, 2011 23:39 said:
Still looking for place to play online.
Megan
at July 10, 2011 10:51 said:
I have a Quinto game for sale. Contact me at megantrower@yahoo.com.
QUINTO
at July 2, 2011 14:32 said:
does anyone know how many tiles are suppose to be in the box?
smarteemarti@aol.com
Linda N
at December 15, 2010 14:52 said:
I have a copy never played for sale.

Contact me homeschoolbus@gmail.com
owl
at December 13, 2010 16:35 said:
1. use scrabble tiles
2. paint numbers on revesse side
Joan
at October 31, 2010 22:25 said:
Where can I get a copy of Quinto. Fabulous game, and my grandkids love it!
leonie
at September 23, 2010 14:34 said:
I never knew anyone else was interested in quinto. Where can I get three copies and why was it discontinued?
Gary
at September 5, 2010 13:01 said:
I created a Scrabble/Quinto game online. It's a beta test site so I'd love feedback.

At http://wordgame.vmoregon.com

Peg
at August 13, 2010 12:24 said:
I have a copy in excellent condition. Anyone interested in buying?
Mary H
at December 26, 2009 14:25 said:
Can I play Quinto on line? With anyone?
Karin C
at November 21, 2008 11:25 said:
I am looking for a very nice Quinto game. E-mail at covaltk@charter.net with price and shipping to 68847 zip. Thank you.
Kay
at September 27, 2008 10:50 said:
I have a Quinto game for sale. It's been played once. Any offers?? Email me at kmz996@ptd.net. It's going to a yard sale on October 4, 2008.
WJP
at September 14, 2008 14:32 said:
This great board game can be found on eBay for $10 to $20.
Boris
at August 28, 2008 18:35 said:
Pa lottery has a new game called quinto, you pick five numbers and dont win.
mike
at August 26, 2008 18:54 said:
pa lottery has a new game called quinto
Joseph M. Buena
at August 26, 2008 05:57 said:
I have been a great fan player of this board game and I can't find a stock in this fun game. Where can I buy this?
Mahatma Whazizname
at August 18, 2008 14:36 said:
Wow;
I was beginning to think that i was the only one that knew about this game. My brother bought a copy at a rummage sale in the early eighties; and he used to play it all the time. I somehow ended up with the game, and now am using it to help my young daughters to think mathematicly. It seems to have help them both a lot.


(:
Elizabeth Bowman
at July 29, 2008 11:47 said:
Is there any where to play Quinto online?

please email me and let me know


at
contact733@yahoo.com

thanks
Elizabeth Bowman
Claire Petuck
at July 9, 2008 19:30 said:
Have always loved this game ... I play Bridge, Pinochle and Literati on line at Yahoo. Is there anywhere to play Quinto on line????
Dennis, The Gamepiler
at February 25, 2008 10:33 said:
Check the FAQs and Links links in the left sidebar for a list of places where you can find older games on-line.
Dennis, the Gamepiler
at November 15, 2007 09:25 said:
Check the FAQs and Links links in the left sidebar for a list of places where you can find older games on-line.
Jerry
at November 12, 2007 15:27 said:
any idea where i can get a copy of quinto--used to have it years ago and loved it

jerryandkatee@peoplepc.com
---
Comments are disabled while we deal with some database issues. We apologize for the inconvenience