JumpinAbsorbing New Game of Pawns3M Company - 1964
2 or 4 Players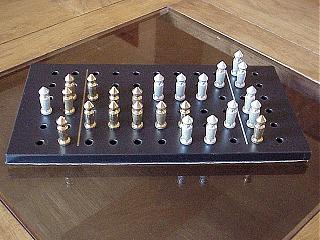 Jumpin is an abstract strategy game for two players. The object of the game is for a player to move all of their "pawns" from one end of the board to the other.
Pawns can only move by "jumping" over other pawns. A pawn can jump over one or more pawns as long as they are all in a row with no intervening spaces. When a pawn lands it can continue to jump as long as there are legal moves remaining for it. Pawns may jump over pawns belonging to either player. Once a player has completed their move the other player takes their turn. The first player to get all of their pawns to the opposite end of the board is the winner.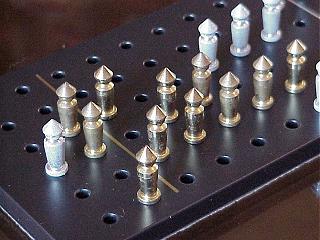 This game is a variant of the "peg" puzzles that you sometimes find in country-style restaurants. The game is quite basic and a winning strategy can probably be formulated fairly quickly. The little metal pawns are nice but the game really does little to hold interest beyond that.
---
8 comments on Jumpin:
Jean-Guy Leduc
at September 10, 2012 21:20 said:
If you want to buy it send me a message at: jean-guyleduc@videotron.ca

Duane
at March 25, 2012 21:43 said:
Great game for kids except the end game can be tough.
For people searching Ebay, best advice is to buy 3M games in lots as you end up paying far less per game as much of the cost is in the shipping. The shipping cost of 3 games is not much more than shipping 1 game.
Sheila
at January 24, 2012 00:50 said:
I would like to see this game online to play against either the computer or someone.
To Whom It May Concern
at December 19, 2010 10:08 said:
I have a game of JumPin and if anyone is interested in buying it, please contact me at smoriano@rgv.rr.com.
Thank you.
DAN
at June 29, 2009 17:19 said:
THIS GAME IS WAY COOL, I USED TO PLAY IT ALL THE TIME IN THE EARLY 70s
adrian
at January 25, 2008 15:20 said:
I also found this at a local second-hand store, and I love it. The moves are so simple it\'s a great quick-start game for young people who are impatient with complex rules of gameplay.
Kevin
at January 8, 2008 17:36 said:
@judy

I'm sure it's out of print, but it can most likely be found occasionally on eBay. Also, check your local thrift stores...I just purchased this game today at Deseret Industries along with Facts In Five.
judy
at December 15, 2007 20:04 said:
Can this game be purchased today?
---
Comments are disabled while we deal with some database issues. We apologize for the inconvenience