ImageThe Who, What, Where and When Game3M Company - 1967
2-6 Players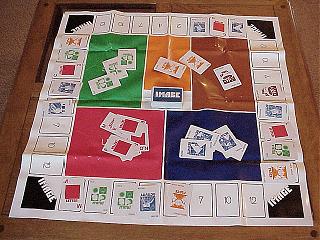 Another trivia game, the object of Image is to identify famous people by their "personality profiles".
Each player is dealt a hand of five cards. The cards are of five types; Place, Time, Activity (sports, religion, music, etc.), Status (dead, fictional, etc.) and Letter. In each turn, players start or extend "images" by playing cards on a track on the playing field. Each card they play must somehow relate to the person they have in mind. The image is made up of place, time, activity and status cards.
When a player thinks they know who the image is they play a letter card to end the image. The letter card must be the first letter of the last name of the person who the image is of. Points are scored based on how many image cards were played before the player named the identity of the person.
As an example of an image, the following cards have been played: Europe, Government, Pre-17th Century, Head of State, Dead, Religion, England. The image is of Henry VIII and the ending letter card would be H.
There is a major problem with this game and that is that the images that are created by the game are so vague that most of them could probably apply to any number of people. Consider the example above (which is from the rules booklet). The same profile could easily fit Richard the Lionhearted (the Crusades arguably being the religious reference in the image). The situation is vague enough that arguments could easily break out between players.
This game (like Events, which it shares many characteristics with) is one of 3M's weakest entries. It is really a card game; the oversized plastic playing mat does nothing for the game and looks kind of cheap to boot. An interesting idea, but one that really doesn't work that well.
---
2 comments on Image:
Air Jordan
at February 3, 2012 19:26 said:
The unique design elements including printed on the soles of Michael? Jordan's fingerprints, fingerprint type is used as a grasp of the sole lines to grain;air jordan sneakers for sale The shoes tongue behind also carry the Jordan with thumb prints,ensure the quality of the coating and parts, fastness and durability. jordan 14 for saleThe soles of environmental protection rubber can reduce toxicity, and used the NikeGrind materials,Jordan Retro 3 for sale the material is made by the sole produced during made waste and into. Cheap Nike ShoesThe structure of the shoe emphasizes the environmental protection the use of material. jordan 9 for sale Shoes brought/shoes tongue Nu-foam lined with the material, increase cylinder of low shoes are comfortable.air jordan 1 for sale Fill in the design of new flocculant models provide excellent lined with the arch of the foot support.authentic jordans Strengthen shoes waist panel accurate and keep a shoetree shape so that fit to achieve the best effect. size 14 jordans Breathe freely tongue can let air escaping,air jordan flight 45 make sufficient ministry keep more dry. Structural forming period, vamp after two tyre pressure bed in the shoetree, the vamp shape and last from shape perfectly. jordan shoes for sale The outsole/in: whole palm Zoom Airsole unit provides excellent shock sex. jordan 6 ringsCarbon fiber materials shoes bone supporting board important parts of the structure and increase the support.cheap jordan retro 7 High performance TPU stability and increase the insole support. reduce the waste and reduce solvent agents use. mZr491440
aaa
at October 11, 2011 01:16 said:
HI
---
Comments are disabled while we deal with some database issues. We apologize for the inconvenience