High BidThe Auction Game3M Company - 1965
2-4 Players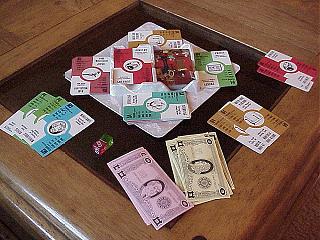 In High Bid the players are collectors competing in an art and antiques auction. They bid on various items which they can either keep or sell in hopes of making a profit.
Items are represented by cards. Players initially buy items by bidding on them from the "auction block". The player who wins the auction gets the item for the price bid. That player can then sell items which were already in their hand by rolling a die to determine if the item is sold to a collector, gallery, dealer or if it goes to a warehouse. Players can also buy items from these locations.
All items are part of a set. For example, the "Antique Clocks" set consists of a Grandfather Clock, a Mantel Clock and a Cuckoo Clock. If a player has the entire set it is worth more more than just having the individual items.
When the first player gains a net worth of $5,000 in completed property sets the game ends and that player is the winner.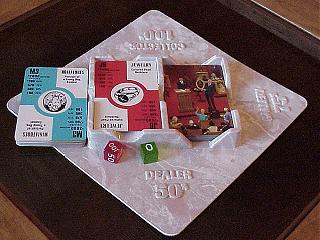 There are several auction games (Parker Brothers Masterpiece comes to mind) and High Bid is a very good example of one. At its heart it is a card game (and 3M later released a gamette version as a card game) but it does very well. This can be a quick fun game.
---
5 comments on High Bid:
Baron McCausland
at July 11, 2012 15:36 said:
We played High-Bid from time to time as an alternative break from our chronic obsession with 3M's Acquire.

It is a lighter game, and 'not bad at all'; but never reached 'Great Game' status - Give it a try for a change of pace.
Kyla
at March 14, 2012 10:27 said:
I was actually looking for a online game to play.
ryan
at August 25, 2011 04:45 said:
I can scan the manual if you want which has the rules on it, shoot me a email rlee1918@gmail.com or if you want to buy mine it's brand new condition, I got it on ebay for $10

http://cgi.ebay.com/ws/eBayISAPI.dll?ViewItem&item=230664624295
scouter38@hotmail.com
at January 1, 2011 12:56 said:
I recently found this game at a resale shop and bought it for $2.75, it is all complete and appears to have never been played. I've played it once amd is a fun game
Brkroening@aol.com
at January 3, 2009 19:25 said:
I loved this game in the 70's and 80's. Now I have forgotten how to play and my rules have disappeared. Where can I get the directions?
---
Comments are disabled while we deal with some database issues. We apologize for the inconvenience